How did Russian armored vehicles reach Serbia despite EU sanctions? Hungary held the key
We were notified about a civilian aircraft entering Hungarian airspace, but that's a completely protocol-type of notification, which should just be acknowledged, said the head of the Hungarian PM's cabinet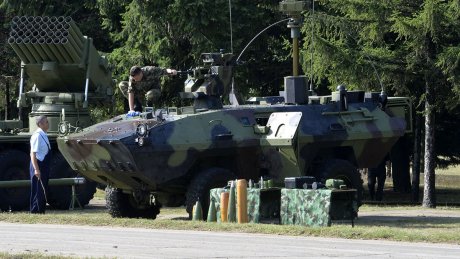 Foto: Tanjug/Rade Prelić
The Hungarian government has confirmed that, despite EU sanctions, it allowed the transport of armored vehicles from Russia to Serbia because they were on board a civilian plane, which does not require a permit, the website Politico reported.
"Of course we get notified about a civilian aircraft entering Hungarian airspace, but that's a completely protocol-type of notification, which should just be acknowledged," said Hungarian rime Minister Viktor Orban's chief of staff Gergely Gulyas.
He also added that, for geographic reasons, the Russian cargo would have also had to fly through Poland and Slovakia.
A European Union spokesperson told Politico Brussels had seen reports about the transport of Russian weapons. "The implementation of EU restrictive measures is the responsibility of EU member states," said the spokesperson.
Following the decision of Crimea to join Russia in 2014, the European Union imposed sanctions against Russia's arms trading, as well as on dual-use goods, which can be used for both civilian and military purposes.
Romania's Foreign Ministry announced last Friday that, in line with EU sanctions, it had blocked a shipment of tanks and armored vehicles traveling from Russia to Serbia on the Danube - which was later described as fake news by Moscow.
Ten BRDM-2 Russian armored vehicles were shown at a Serbian Army barracks in the southern town of Nis on Monday, with Serbian President Aleksandar Vucic saying: "It's our business how they got here."
(Telegraf.rs/Fonet)