Focus more on Serbia and Western Balkans: Macron's message to French ambassadors
"Otherwise, the US, Russia and Turkey will be deciding about the Western Balkans. Here Germany also has its ideas, and I must say that they are much more effective and more strategic than ours," the French president said, among other things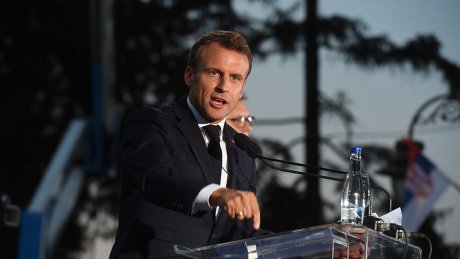 Foto: Tanjug/Dragan Kujundžić
French President Emmanuel Macron has asked French ambassadors abroad to once again engage geographically in developments in the Western Balkans, citing Serbia as a concrete example.
As quoted in a speech published in its entirety on the website of the French Presidency, he stressed that Paris must reinvest in those countries that truly love France in order not to allow other European powers to "play a game in France's place."
"Otherwise, the US, Russia and Turkey will be deciding about the Western Balkans. Germany also has its ideas here, and I must say that they are much more efficient and more strategic than ours," the French president said, among other things. He recalled that he visited Serbia in July.
"I think the previous presidential visit to Serbia was in 2001, that's crazy. When I see, for example, how much we are investing in the field of culture, we are investing much less in the field of public life than in some countries that are much less strategic and significantly more remote," said Macron in his speech during a traditional ambassadors' conference, the website of the French Presidency said.
Recalling his visit to Serbia, he pointed out that he noticed that in those countries where Paris is investing less, the French representatives are greeted wonderfully.
"In order to have a European strategy, we need to think about the borders of Europe," Macron told the ambassadors.
A day after the G7 summit in Biarritz, the French president called on the diplomats to help turn Europe into a "balanced power" rather than "an associate power" to the United States and China.
In the speech to about 200 ambassadors, Macron said he was in favor of a "bold strategy" for the French diplomacy, stressing the need for rapprochement between the EU and Russia.
"Pushing Russia away from Europe would be a profound mistake," Macron said.
VIDEO: Macron makes address in Serbian during Belgrade visit, delights citizens
(Telegraf.rs/Tanjug)