Day two of Czech president's visit: Official talks between Vucic and Zeman
After a face-to-face meeting between Vucic and Zeman, a plenary meeting between the two countries' delegations will follow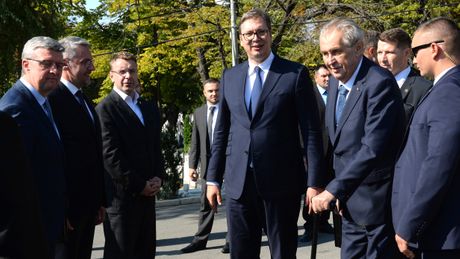 FOTO: Predsedništvo
Czech President Milos Zeman arrived in Belgrade yesterday; official talks between the two presidents and delegations are planned for today, as well as the signing of bilateral agreements, and holding of the Serbian-Czech Business Forum.
After a face-to-face meeting between Vucic and Zeman, a plenary meeting of the two countries' delegations will follow, and after  bilateral agreements have been signed, the two presidents are planned to address reporters.
In addition to Aleksandar Vucic and Milos Zeman, the Business Forum will also be attended by the leaders of the chambers of commerce of the two countries, Marko Cadez and Vladimir Dlouhy.
Yesterday, the president of Serbia welcomed Zeman at the airport Nikola Tesla, posting a photo and writing on the Instagram account @buducnostsrbijeav that relations between Serbia and the Czech Republic are at the highest level today.
Yesterday, Vucic and Zeman laid wreaths at the Monument to the Defenders of Belgrade 1914-1918, located at the New Cemetery.
(Telegraf.rs/Tanjug)