Various versions of teacher's grave desecration: Head wasn't taken away, one object was in casket?
The family denies that the deceased was buried with gold, the locals fear cults, troubled by the memory of 2007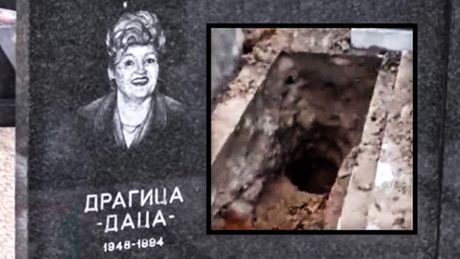 Printskrin: Youtube/Radio-televizija Vojvodine
After a grave was desecrated in Stari Banovci on December 3, the case was reported to the competent authorities - but the perpetrators have not yet been apprehended. It is suspected that there were at least two perpetrators who removed the tombstone, dug up the grave and removed body parts of Dragica Kristic, a teacher who was buried there 25 years ago.
"It's not true that the skull was taken from the cemetery," Stara Pazova Public Utility Company Cistoca director Jovan Gagrica told Telegraf, emphasizing the need to correct the incorrectly reported information that appeared in media yesterday: "The skull with some hair was left near the grave."
He confirmed the information that the police  as well as family members, had been notified.
"The deceased's son-in-law attended the investigation," he told us, adding that the late teacher's loved ones are very upset about what has happened.
As for claims that Kristic was buried with a large amount of gold - as stated in an email delivered to a local media outlet - a friend close to the deceased's family said that they denied this, saying there was only "a ring or something small" in the grave. However, theft is not the only possible motive.
An investigation has been launched after the scene was inspected, and as we learned in this town, all sorts rumors and different versions of the event are swirling around. Many daily papers have already recalled a crime that took place there in 2007, when Danijel Jakupek, 38, killed a 5-year-old boy and his 26-year-old uncle, dismembered their bodies, and then threw them into the Danube. He was later declared incompetent to stand trial, while literature disseminated by a cult was found in his apartment.
The Public Company also told us that one of its worker came across the unpleasant scene on Tuesday, that everything had been in order on Monday, and that family members had visited the grave on Sunday, the day before.
Members of the family, on the other hand, have declined to comment on the case.
As Telegraf.rs has found out, the investigation is ongoing and the perpetrators are still searched for. Their motives are not yet known.
Take a look at the scene:
(B.P.)