Starting tomorrow, masks are mandatory in all closed spaces: Crisis HQ announces new measures
A number of other measures have been adopted
The session of the Crisis HQ for suppression of the spread of coronavirus, which started this morning at 10 am, ended at around noon. Members of the HQ considered several key decisions, all with the aim of curbing COVID-19 and preventing a higher incidence of the disease, as the number of infected persons in our country is constantly rising.
New measures will be introduced only in hotspots, not in the whole of Serbia. There will be no quarantine, curfew, or a state of emergency, and as we have learned, masks will be mandatory in every closed space in Belgrade. Until now, that obligation applied only for city and intercity public transport.
Those found in breach if this decision will be sanctioned.
Member of the Crisis HQ Professor Doctor Darija Kisic Tepavcevic, an epidemiologist, said after the meeting that the obligation to wear masks starts tomorrow at 6 o'clock.
"Starting tomorrow (Tuesday) at 6 am, it will be obligatory to wear masks in the area of ​​the city of Belgrade not only in transport but in every closed space," said Kisic Tepavcevic.
It was expected to that an emergency situation would be declared in Belgrade, in those municipalities that are emerging as new hotspots, as has previously been done happened in Novi Pazar and Kragujevac.
Prime Minister Ana Brnabic also spoke in that tone last night in the when she appeared on TV Pink.
"What I can say is that measures will probably be introduced that are in line with those we saw in some local governments where the number of infected people has increased, like in Novi Pazar, Kragujevac, and now probably Uzice and Vranje. We will try not to take measures that apply to the entire territory of Serbia, but to those places with the greatest number of cases.
Belgrade will be in that group, because we still have more than two thirds of all cases in Belgrade, and that is mostly still the younger population. I think that opening hours will be limited for nightclubs, and we'll see yet about restaurants," said Brnabic.
According what we have learned, work of restaurants and cafes will be limited, while the HQ will decide whether they will work until 7 or 8 pm; meanwhile nightclubs and raft restaurants will have to close by 11 pm.
Our sources also said that parties and celebrations will be banned, and it is quite certain that there will be no graduation parties, while recreational ones will be banned again.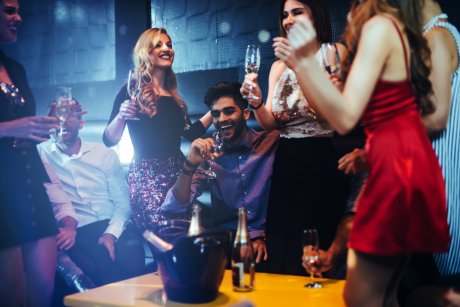 As we reported last night, at this decisive session, HQ members were also to consider closing kindergartens, or reducing the number of children in them.
There was the possibility that once again only those children whose parents cannot look after them due to work obligations wold be allowed in kindergartens.
Masks in all closed spaces
Doctor Predrag Kon, an epidemiologist and a member of the Crisis HQ, also said last night in the Impression of the Week talk show that serious measures in Belgrade would be discussed today at the Crisis HQ meeting. He mentioned that in addition to restricting the work of cafes and clubs, all graduation celebrations and school reunions will also probably be banned.
On Tuesday last week, the Crisis HQ made wearing masks obligatory in city and intercity transport.
Visits to hospitals were banned at the same time, while in nursing homes they were limited to 15 minutes, under special conditions. It was also decided that each closed space must provide at least 3 square meters per person, while the distance between people in the open should be 1.5 meters. Five hotspots
In Serbia, coronavirus is currently flaring up in five cities. After Novi Pazar, an emergency situation was declared in Kragujevac. In addition to Belgrade, Vranje is getting closer to that, while Uzice has emerged as the newest hotspot.
So far, a total of 14,046 people have tested positive for coronavirus in Serbia. In the previous 24 hours, the virus was confirmed in another 254 people, and the number of patients on ventilators is growing again - there are currently 31.
To date, COVID-19 has claimed 270 lives in our country.
Video:

Uzice is new hotspot, emergency situation could be declared
(LJ.R.)