Painting of Air Serbia's plane with Tesla's image: 19 shades of blue color alone used to create it
The Airbus A330, which will be used by Serbia's national carrier Air Serbia for its flights to New York City, should arrive at Belgrade's Nikola Tesla Airport in two days' time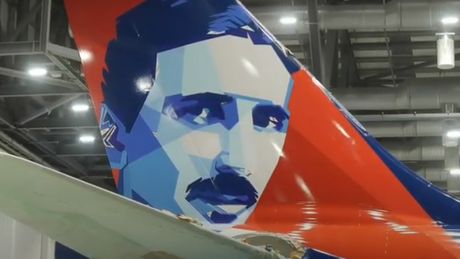 We recently reported about how a new Air Serbia plane, that will have the image of a Serbian genius painted on it delighted the public, and the latest news is that the wide-body passenger jet Airbus A330 - which will connect Belgrade and New York - should arrive at the airport in our capital city in two days - on April 24.
The plane will fly under the name "Nikola Tesla" and will visually be quite different from the rest of the aircraft in the fleet of the domestic airline. The new Air Serbia aircraft, in this edition, was created in Shannon, Ireland. In the video below, you can see what the painting process looked like, using 22 different colors and about 250 liters of paint.
What makes it even more interesting is that took eight days of uninterrupted work in three shifts, in order to complete this special project, while the teams consisted of about 10 people in one shift. Also, Air Serbia announced that the modification of the existing design will be applied exclusively to this plane.
It boasts dynamic lines, as symbols of movement and speed, with the main detail on the vertical stabilizer being the image of Nikola Tesla. The color blue, as part of the national carrier's corporate identity, has been chosen as the basic color for Tesla's image, the graphic display of which uses 19 different shades of this color.
"The arrival of the Airbus A330 plane to its new home in Belgrade is an extremely important event for Air Serbia. It's a great honor for us that our plane will bear the name and the image of Nikola Tesla. The fact that he is a great genius from this region, but that he spent most of his life in New York, renders additional importance to the symbolism of having his image on a plane that connects Belgrade and the famous metropolis," said Air Serbia CEO Duncan Naysmith.
The plane was manufactured in 2008 and is a year younger than the previous jet of the same type included in Air Serbia's fleet. Its previous operator was the Russian national carrier Aeroflot. In the Serbian aircraft register, the "Nikola Tesla" plane will be registered as YU-ARB.
It is also stated that, unlike Air Serbia's first Airbus A330, this one has Rolls-Royce engines. It will also have a configuration consisting of 21 seats in business and 236 seats in economy class.
The concept of the new menu is inspired by Nikola Tesla's diet and is based on three key words that can describe his work and patents - Energy; Frequency; Vibration.
The menu for economy and business class passengers, created in cooperation with Chef Zoran Miskovic, was inspired by Tesla's childhood, student days and his life in New York. Passengers will be able to find these meals in the menu marked with the letter T - Tesla's Way.
Video:
A ship blocked the Suez Canal: World economy under threat
(Telegraf Biznis)