Miha leaves hospital with Serbian salute after treatment: Arianna posts touching photos
Sinisa Mihajlovic has left the clinic in Bologna after the second phase of his treatment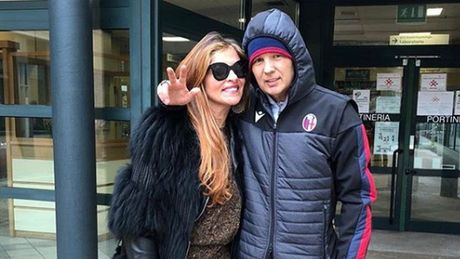 Foto: Instagram.com/ariannamihajlovic
Serbian football coach Sinisa Mihajlovic has left the hospital after the second phase of his treatment. He was welcomed in front of the clinic in Bologna by his wife, Arianna Mihajlovic, who posted touching photos on her Instagram account.
In a caption to a photo showing them embraced - with Miha displaying the traditional Serbian three-finger salute - she wrote the words that will move many people.
"The most beautiful thing there is! Back home," Arianna wrote.
It was she who made the biggest sacrifice when it comes to Mihajlovic's treatment, as she proved to be the pillar of the family in critical moments when Miha was in the hospital, spending the whole time with him and their five children from their marriage that has lasted many years.
She and the children arranged a touching welcome to Miha the previous time, when he returned from the hospital after the first phase of his treatment for leukemia.
Video: Welcome home dad, we love you! Miha enjoys welcome of a lifetime
(Telegraf.rs)