Vucic: I am not a man who will try to protect criminals
His first TV appearance after returning from Tirana Serbian President Aleksandar Vucic made an appearance on O2 TV's Stav program last night, for the first time after returning from Tirana. One of the first topics was the first round of presidential elections in Croatia on Sunday, as well as regular upcoming elections in Serbia.
"Elections will be prolonged for about 40 days, we'll see whether it will be April 26," said Vucic.
Affairs
About the affair surrounding Sinisa Mali's PhD, Nebojsa Stefanovic's diploma, and the impression that Vucic is defending something that is indefensible and that he is like Mother Teresa, Vucic said that he certainly has the most fights and the most scars in politics.
"I'll fight each time someone is unfairly attacked. Mali is competent and does a great job. But I called him and told him, "Please go rip that up and invite the whole Serbia to hear your PhD'. I still value and respect him as an expert. I told him that whatever the decision was, he had to respect it."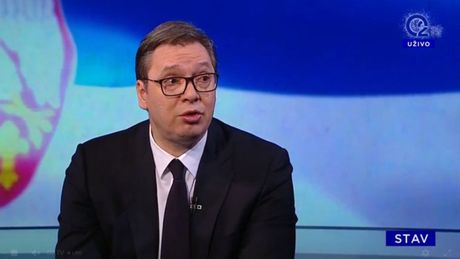 Krusik
"I understand the concerns of the people. The only serious accusation in that whole story was that someone was making deals to sell at a lower price to a company where Minister Stefanovic's father was supposedly employed. That charge immediately fell through because SDPR explained that it paid two, three times higher prices. Valjevo has lost the most in this story because now we will have to restore the reputation of Krusik. Our goal is to sell arms and work. These people have to live off of something. We need to support both private and public sectors. I have never been to that GIM factory, but the question now is, did Minister Stefanovic provide some benefit to his father? He did not. What's the point of this whole story? An N1 journalist who said that Nebojsa Stefanovic lied to me. Never mind that. That's between us," Vucic said about the Krusik affair, adding: "And the one under house arrest - it's better not to say what I think and not to talk about what a clean case the prosecution has, I don't want to influence prosecutors."
Average salary 515 euros
Vucic said that economic growth will be 4.0 percent in December. The average salary in January will be 510 to 515 euros, Serbia also has a lower rate of public debt. He said that according to the average wage we will be in top spot in the Western Balkans region together with Montenegro. The country is going in the right direction, whether we will be a month or three or six late, perhaps, but we will do it.
"Don't forget that we started with the average salary of 350 euros, and that at the time they had 512 euros. We now have a very low rate of public debt, between 51 and 51.5 percent," said Vucic.
"I am happy and proud to see my political opponents enjoying Belgrade Waterfront. I am not one of the people who will ever try to protect criminals," said Vucic, commenting on the Savamala case. "I will not let the lies about Jovanjica be forgotten in order for people see that lies don't pay off. There's no way there are real affairs there, that I'm protecting anyone."
Dual education
Dual education is one of the crucial reforms in Serbia, started in 2016, which enables young people to get a job while at the same time providing a momentum for the progress of the country, said Serbian President Aleksandar Vucic and recalled that currently in our country 6,100 students are being educated under this model for 37 occupations.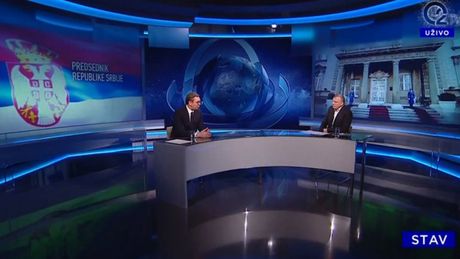 "I am convinced that we will continue to strengthen it, that our companies will get involved and employ young people," said Vucic.
Belgrade and Pristina
Edi Rama is mostly focused on the future and economic cooperation, Vucic said about the continuation of the Little Schengen process, noting that he was not too optimistic about the dialogue between Belgrade and Pristina.
"I would like it to happen, but I'm not optimistic," said Vucic about reaching an agreement between Belgrade and Pristina by the end of next year.
Asked when the Belgrade-Pristina dialogue would resume, he replied: "How would I know, I don't even know when and if they'll form a government or when they'll abolish taxes."
Respect for Serbia
"Next year I will see Xi Jinping, the Russian president will come again, I am convinced that by the end of next year Boris Johnson will come. The president of Israel also visited us, representatives of several African countries, we did something that we had not managed in many decades. This shows the respect Serbia enjoys in the world. We had seven hours of conversation with Macron in Belgrade. What greater honored for Serbia is there? This was not done because of Aleksandar Vucic, but because of Serbia."
Boris Johnson
"We need to continue our European path, work hard, bring Boris Johnson to Serbia, the UK will become a key ally in Europe," said Vucic. "I am almost convinced that I will be successful in asking Boris Johnson to come to Serbia."
"To bring Johnson to Serbia as soon as possible and to make a friend of Serbia out of Britain," said Vucic.
Asked if he personally was friendly with Johnson, and asked how realistic it was for the British prime minister to come to Serbia, Vucic replied:
"I'm convinced it's realistic. Neither a US president nor a British prime minister have visited Serbia in 40 years. I cannot guarantee it, but I am almost convinced that I will manage to ask Johnson to come to Serbia," Vucic added.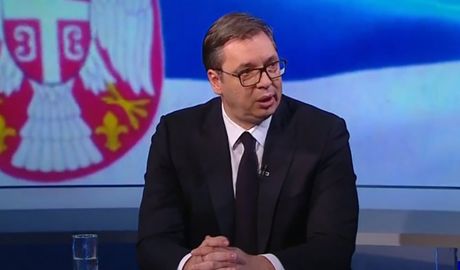 Little Schengen
With all our disagreements when it comes to Albanian-Serbian relations, in this economic sense Edi Rama has shown absolute courage, Vucic said, referring to Little Schengen.
"We will attract a lot more investors because they will feel much better in a slightly wider market. Investors look for places where there is less corruption, but it's everywhere. They will come primarily to Serbia. People, we need workers, is it better for us to have a worker from Kumanovo or to wait for a Canadian? The first nurses are coming back, even though their salaries are still low.
Under pressure from outside, can Little Schengen collapse? Critics say it is the creation of a new Yugoslavia, Greater Albania or Greater Serbia, depending which country these critics come from.
Freedom of movement alone saves over 2.5 billion euros. He believes that the next meeting of the Little Schengen initiative will be in Belgrade at the end of January, and that by that time there will be workforce flow and traveling to and from Albania with only an ID card required.
Workforce flow is most important to us
"That's the best praise for our initiative. The flow of the workforce is the most important thing to us, it will take effect by the end of January next year," Vucic replied.
Asked if this initiative could accelerate the Western Balkans' path to the EU, Vucic said:
"I really can't tell you that. Are you sure if we do everything and one day reach an agreement with the Albanians that they will let us in the EU? I'm not. I am a man who talks to all statesmen every day... 'We never interrupt this process, we are waiting for you' are the answers I'm getting about Serbia in the EU by 2025.
Montenegro was chased away from Serbia
Speaking about the position of Serbs in Montenegro, Vucic said that the authorities in 2006 chased Montenegro away from Serbia.
"It's a difficult position for us, whatever we say will be qualified as interference in the affairs of others," said Vucic.
Asked to comment on the presidential elections in Croatia, Vucic said:
"We don't interfere in their internal affairs, whoever wins will be congratulated," he commented briefly. "I don't remember it being so difficult for me in some other place, and there being so much hysteria," he said, referring to his visit to Croatia last year.
"I saw fear in the faces of the people I spoke with," said Vucic, noting that not all Serbs there declare themselves as Serbs. "I followed this election. I think Milanovic needed three more days of campaigning to win in the first round."
Which is better for Serbia, who is the better solution for Serbia?
"Whatever I say would help the other," said Vucic. "Due to the migrant crisis, Milanovic at one point behaved very irresponsibly towards Serbs."
(Telegraf.rs)
Pošaljite nam Vaše snimke, fotografije i priče na broj telefona +381 64 8939257 (WhatsApp / Viber / Telegram).