Vucic after meeting with Grenell: US insists on urgent abolition of taxes, resumption of dialogue
Vucic spoke with Grenell ahead of today's 56th Munich Security Conference
Serbian President Aleksandar Vucic met with US special envoy for the dialogue between Belgrade and Pristina Richard Grenell upon his arrival in Munich; ahead of the start the president of Serbia said that he expected to discuss Kosovo first and foremost, i.e. ensure conditions for the continuation of the dialogue.
The meeting was also attended by Director of the Office for Kosovo and Metohija Marko Djuric.
"I think it is of exceptional importance that the Americans are insisting on the removal of taxes and then continuation of talks. People in Serbia know and I will not repeat it a million times, there are no easy conversations for us, whatever we talk about, and people need to understand this, and at the same time we must ensure peace and security while preserving vital interests," President Vucic said after his meeting with Richard Grenell.
He said he was pleased that Grenell approached the intention of forcing Pristina to abolish the taxes seriously.
Vucic spoke with Grenell ahead of today's 56th Munich Security Conference.
"Little Schengen" for a strong economy
Behind the idea of ​​the "Little Schengen" is nothing other except a desire for a strong economy, free movement of people and capital and a better standard of living for Serbs and Albanians, said President Aleksandar Vucic, commenting on Albin Kurti's assessment that the intention behind the "Little Schengen" is for Serbia to create a "fourth Yugoslavia."
Vucic also said that Kurti's assessment shows that he doesn't know the history of his own people, nor of the region, but also that he has conspiracy theories and thinks that "there is something behind everything."
"They seem to be watching the Twilight Zone, they have conspiracy theories, like many politicians from central Serbia, they think there's something behind it. A strong economy, a free flow of people, goods, services and capital and a better standard of living for Serbs and Albanians are behind my idea. First of all, I worry about Serbs, but I also have nothing agaist Albanians enjoying the benefits of these freedoms as well," Vucic said in Munich while answering questions from journalists.
Имали смо отворен и искрен разговор који за нас никада није лак, али задовољан сам што је @RichardGrenell овако чврсто за укидање такси. Када Приштина укине таксе ми смо спремни да седнемо за сто. pic.twitter.com/DqF7LJgFWa

— Александар Вучић (@predsednikrs) February 13, 2020
Framework agreement for the Belgrade-Pristina railway line
Serbian President Aleksandar Vucic announced that a framework agreement on railway traffic between Belgrade and Pristina would be signed in Munich today.
Meetings with German investors
In a statement to journalists, Vucic announced that he would participate in a panel that is likely to include Albanian representatives from Kosovo and Metohija, and that he would try to attract new German investors to our country.
The panel with German investors organized with the support of Wofgang Ischinger will be of fantastic importance to our country, he says.
"I'm getting ready for that and I want to attract more German investors. Ischinger, who is a political legend of Germany and has a huge reputation in Germany, urged those investors to come and for Serbia to present itself as an investment destination. Doing this during the Munich Security Forum is of huge importance," said Vucic.
The president of Serbia stressed that this was a great honor and an opportunity.
Meetings with Chinese foreign minister and US senators
Vucic says he will also have a meeting with the Chinese foreign minister, which is an incredible honor for Serbia, since he has many requests for bilateral meetings, but Serbia will be among the countries that will have that meeting - and he thanked Chinese friends.
He added that he was to speak with a group of US senators at 10:15 pm last night, but would also have meetings with German CDU MPs today.
"We represent our policy and fight for the interests of Serbia," said Vucic, pointing out that this creates and presents a favorable business environment recognized by foreign companies, such as the German company Brose. Situation in Montenegro
Vucic said in Munich last night that despite occasional harsh words and insults from Metropolitan Amfilohije, he believes that the head of the Metropolitanate of Montenegro and the Littoral (of the Serbian Orthodox Church, SPC) is doing an important job today for Serbs in Montenegro, and that for this, he has his personal support.
"I respect the metropolitan, I have a very decent relationship with him, and I never have, nor will I respond to harsh words and insults. I think he is doing an important thing today for Serbs in Montenegro and for that he has my personal support," said Vucic.
He said that as a man who only goes to church a few times a year, he is not interested in doing any church-related work. "But I am very interested in fighting and succeeding in that fight for my people in Montenegro and for the SPC," he said.
Concern over developments in BiH
"I spoke with Milorad Dodik on the phone, he conveyed his position to me and I saw that everything that is happening affects him. We agreed to discuss this in more detail on Saturday," Vucic said in Munich, where he is today participating in the Security Conference.
The Serbian President reiterated that on Saturday, Serbia's Statehood Day, he will speak with political representatives of Serbs from Montenegro and from the region, as well as with Serb member of Bosnia and Herzegovina (BiH) Presidency Milorad Dodik and Serb Republic, RS President Zeljka Cvijanovic.
"I expect that we will all hear then what Dodik thinks, because I want to hear out everything, see what the consequences will be, think through and make decisions," said Vucic, adding that he is not one of those politicians who "has an answer to everything within three seconds" of something happening.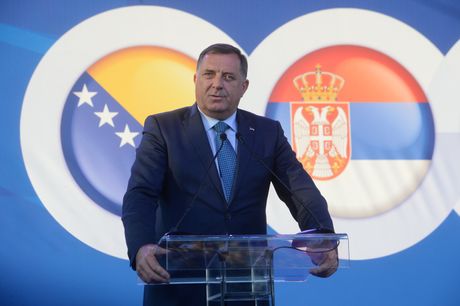 He also said that peace and stability are priority interests of everyone in the region and a condition for further progress of the economy.
Meetings with other world officials
By his own admission, Friday in Munich will be one of the busiest working days for Serbian President Aleksandar Vucic, since he will be having meetings for a full 16 hours, almost until midnight, within the Security Conference. The purpose of all these meetings, among other things, is that they lead to perceptions of Serbia as a country with a favorable business environment and an attractive destination for investors.
The presence of officials from key world power and decision-making centers make this year's Munich forum a kind of a "checkpoint" for Serbia primarily in the process of resolving Belgrade-Pristina relations, as well as when it comes to the fate, that is, the capacity of the European Union and its enlargement process.
The theme of this year's Munich Security Conference is whether the West can continue to offer answers to current world crises and future challenges.
(Telegraf.rs/Tanjug)