Red Star coach on coronavirus horror in Italy: My wife and son are there, Milan is an empty city
The Red Star football club coach held a news conference where most of the talk was about coronavirus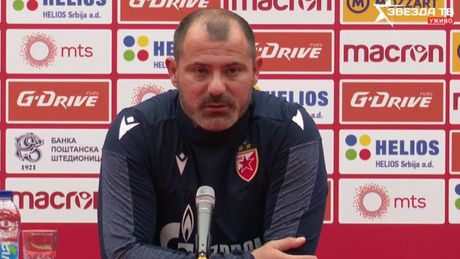 Printskrin: Youtube/Crvena zvezda
Red Star coach Dejan Stankovic held a press conference ahead of the Serbian SuperLiga matchday 26 game between Red Star and Napredak. The game will be played on Saturday from 6 pm behind closed doors, in line with the latest government measures to curb the spread of coronavirus.
It was precisely coronavirus that was the main topic of the news conference, and Stankovic also revealed what the horror in Milan is like - in the hardest-hit city in Europe.
His wife Ana and one of his sons are in Milan, and Stankovic says he is in touch with them every day.
"I said, I am not competent to provide answers about this situation, we have people who we will listen to, and who will give us new information once every three hours. I know how it is in Italy, my wife and son are in semi-quarantine there, Milan is an empty city."
"There is one sentence, I would not like it to be misunderstood - if our parents and grandparents did everything to make sure we are OK, then we must do the same for them now because they are the most vulnerable. If we are asked not to go out to restaurants and cafes, we should stick to it. My father and mother are at risk, they are 65, it's a responsibility not to bring that home, to show social intelligence, to listen to the experts."
"Two sons are here with me, one is with Ana, we should respect things in order to make ourselves safe, the whole society, our loved ones, the situation is serious in Italy, it changes hour by hour, we all have to endure stoically. As I said, social culture needs to be at a high level, it's a matter of intelligence how you will accept it," said Dejan Stankovic.
He also described how members of his staff, who are Italians but did not go to Italy since the crisis broke out, are doing.
"They feel fine, they've been here. They haven't been to Italy for a long time, the problem is only that they Italians, they are here, we don't know what the course of events will be in terms of football itself, everyone thinks about it, experts will give us the right answers and how to see it through," Dejan Stankovic concluded.
Video:
Deki has a special ritual after Red Star scores a goal - which he now has to change because of coronavirus
(D.U.)