Another Chinese aid plane lands at Belgrade's Nikola Tesla Airport as Serbia fights coronavirus
This is yet another aircraft of Serbia's national carrier that has brought in medical equipment and aid, from China to Serbia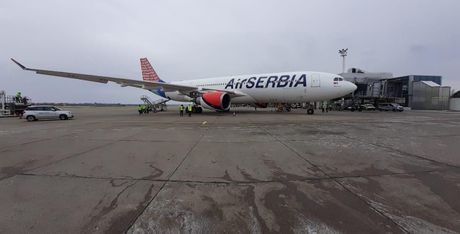 Another Air Serbia A-330 plane landed at Belgrade's Nikola Tesla International Airport at about 2.20 pm on Wednesday, en route from Shanghai, China. The plane's cargo was medical aid coming from China, to help Serbia fight the coronavirus epidemic.
This is the fourth such flight from China that has shipped aid to Serbia.
It is also another plane of Serbia's national carrier that has been employed to bring medical equipment and assistance from China to Serbia.
The first plane landed four days ago, with medical assistance and a team of six of China's most eminent epidemiologists, who earlier managed to stem the spread of coronavirus epidemic in their country.
They were greeted at the airport by Serbian President Aleksandar Vucic.
Another Air Serbia A-320 plane - which brought in more medical equipment - landed just a day after, and was greeted with a water salute at Belgrade's Nikola Tesla Airport.
That plane brought equipment for Serbia's healthcare system and her citizens, as they continue to fight coronavirus.
(Telegraf.rs)