"Team to work with the DFC around the clock has been formed": John Jovanovic comes to work
John Jovanovic also attended the meeting
"We spoke about projects, as well as how to improve relations between the two countries. The Ministry has formed a team that it seems to me will work around the clock with the DFC, because big projects are ahead of us," Zorana Mihajlovic told the media after a meeting with DFC representatives.
Deputy Prime Minister and Minister of Construction, Transport and Infrastructure Zorana Mihajlovic met at around 10 am with representatives of the US International Development Finance Corporation (DFC) and EXIM Bank, with whom she discussed the financing of projects in the field of infrastructure.
The meeting was also attended by the director of the regional office of the DFC in Belgrade, John Jovanovic, for whom this was effectively his first working day in Serbia.
A special team will work 24 hours a day on projects with the DFC. As the minister said, big things are ahead of us, and this refers not only to connecting with Pristina via the highway Nis-Merdare-Pristina, as well as the railway, but also to the regional projects that will be worked on.
She pointed out that the first working meeting with the DFC was held today, and that the ministry will continue to prepare project documentation so that realization can follow as soon as possible.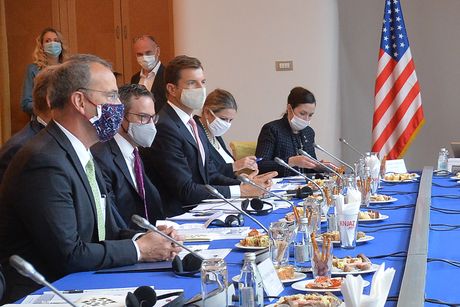 She said that representatives of the companies Koridori Srbije and Putevi Srbije (Corridors of Serbia, Roads of Serbia) and Serbian Railways were also present at today's meeting and that they discussed, above all, how to improve infrastructure, as well as projects agreed by the presidents of Serbia and the US which will connect the region.
US Ambassador to Serbia Anthony Godfrey said he was happy to be attending today's meetings with Serbian officials and added that the Ministry of Construction, as always, approached the meeting professionally, showed readiness to do the work and a vision for Serbia connecting with the region.
He pointed out that all the plans of that ministry are in line with the goals of Serbian and US presidents, Aleksandar Vucic and Donald Trump, which, he recalled, were discussed at the meeting in Washington.
Minister Mihajlovic's team included State Secretary Miodrag Poledica and assistant ministers for Construction, Transport, Air and Water Transport, and other sectors.
The meeting held at the Club of Deputies was attended by members of the US delegation: advisor to the DFC director Caleb McCurry, US Ambassador to Serbia Anthony Godfrey, US EXIM Bank Chief Banking Officer Stephen Renna and other representatives of the DFC and EXIM Bank.
Video:
DFC chief speaks in Belgrade: Were here to stay
(Telegraf Biznis)
Pošaljite nam Vaše snimke, fotografije i priče na broj telefona +381 64 8939257 (WhatsApp / Viber / Telegram).