It's revealed why pilot "drew" heart in the sky over Montenegro: "Goodbye Montenegro Airlines"
The message has wings and a deeper meaning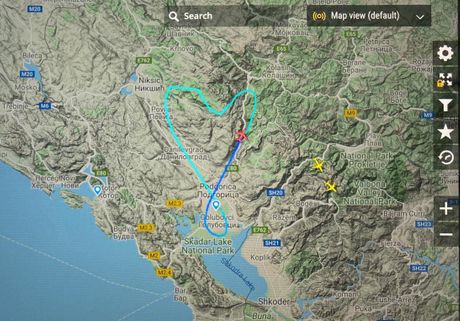 The news that a Montenegro Airlines pilot traced she shape of a heart with his flight's trajectory delighted everyone in the region, and it seems that his idea had a deeper message.
Flightradar24 noticed his "drawing" this morning. The pilot who was flying from Podgorica to Belgrade early this morning, decided to take an unusual route to the Serbian capital in order to draw a heart with his path.
In the end, that very heart embraced the southeast of Montenegro.
According to the information from Portal Bar, the pilot previously asked for permission from flight control for this very emotional gesture.
Very emotionally - with a heart, in fact, Montenegrin pilots are saying goodbye to the national airline.
The government of Montenegro previously made a decision to shut down the national carrier, Montenegro Airlines, and establish a new one.
About 30 pilots are employed by Montenegro Airlines.
Video:
A few months ago, it was very busy: This is what the world looks like now that planes are hardly flying
(Telegraf Biznis)
Pošaljite nam Vaše snimke, fotografije i priče na broj telefona +381 64 8939257 (WhatsApp / Viber / Telegram).