Serbian in Geneva tells Telegraf: Army and police on every corner, locals don't care who's coming
This is not the first time that the Swiss city has been at the center of an important event, but residents of Geneva seem to have gotten used to it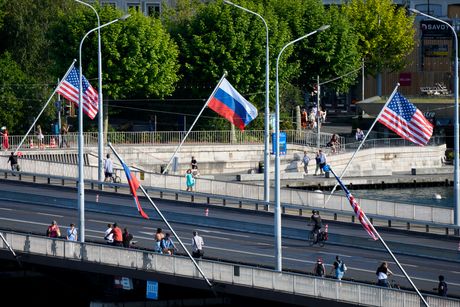 While the eyes of the whole world are on Geneva, where US and Russian Presidents Joe Biden and Vladimir Putin are meeting face to face today, the locals are not interested in who's "coming to visit" and are taking care of their own business. This is confirmed for Telegraf.rs from the Swiss city by Nevena, a Serbian woman who has lived there for several years.
It is impossible not to notice that something important is happening in the city - the so-called red zone, the streets around Villa La Grange where the meeting will take place - are closed to pedestrians and cars.
People who live in the red zone are not allowed to go out on their balconies, and the authorities recommend not going anywhere today.
"The army and the police are on every corner, there's snipers everywhere. Security is at the highest level, I have never seen anything like this," says our interlocutor.
According to her, 95 percent of the police and over 3,000 soldiers are on the streets. The entire road leading to Lake Geneva has been blocked, and the park where Villa La Grange is located has been closed since Friday.
The Serbian says that students have been attending online classes today and yesterday, and everyone who can is advised to work from home.
"There are not many bans, except for the closed main streets, it is also forbidden for pedestrians to go to the red zone. Wires have been placed on the fences," our interlocutor describes what it's like in Geneva today.
The Serbian woman says that controls at border crossings have been stepped up since Saturday, while flags are displayed on the Mont Blanc bridge.
However, although the whole world is interested in what is happening in the Swiss city, residents of Geneva do not seem to pay much attention to it.
"As for the locals, there are no changes, except for increased traffic jams and crowds in public transport. They act like they don't care, they look after their own business. The public was informed by Geneva media last Tuesday that Putin and Biden would come," our interlocutor concludes.
As soon as tomorrow, everything will be back to normal, as if the two most powerful people in the world were not just in the city, and the locals will go on with their lives. Until some new important summit.
Video:
A furious ride to the meeting with Putin: Bidens motorcade passes through Geneva
(Telegraf.rs)
Pošaljite nam Vaše snimke, fotografije i priče na broj telefona +381 64 8939257 (WhatsApp / Viber / Telegram).