"Serbia is a land of true warriors": Marina Maljkovic explains Serbian women's EuroBasket dominance
Our women basketball players have shown that a lot can be achieved with faith and courage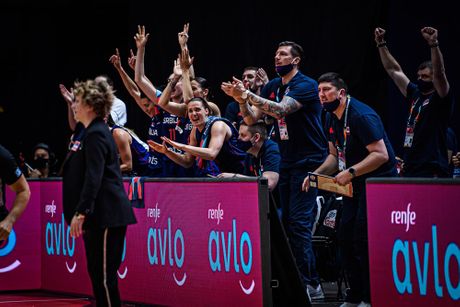 Serbian women's basketball national team are European champions after beating France 63-54 in the final in Valencia, Spain last night.
This is the fourth medal Serbian women basketball players have won in the last six years in major competitions, the third in the European Championship, and the second gold.
Serbia was the European champion in 2015 as well, while it won bronze during the previous EuroBasket two years ago.
The most efficient in the winning side was Yvonne Anderson with 18 points, Jelena Brooks scored 15, Sonja Vasic had 12 points, eight rebounds and six assists.
"Congratulations to my players. It's unreal what this generation has done for Serbian basketball and Serbian sports in general. We will talk a lot more about that," said national team head coach Marina Maljkovic and continued:
"As they say, 'There'll be no giving up' because we have some players who come from the United States and have not yet learned all cases (of the Serbian language). After this gold the girls realize that they can do anything and that they should definitely not give up. We will try to prepare as best we can, and now we will celebrate a little. "
She stressed that her team played in warrior mode.
"We completely played as warriors... Our country is small, but it is a country of true warriors, or in this case, women warriors. And another thing, in addition, we played well both technically and tactically. Our heads where we they should have been. I think this was really what I was looking for - a great game of basketball, for which we train every day.
So far we have played very good games, we wanted this final to be really great. While we were standing on the podium, Tina Krajisnik, for whom this was first medal, said to me, 'Wow coach, this is what one lives for.' Yes. That's right. Why would we stop now? Let's repeat this," said Maljkovic.
Video:
European champions raise their trophy: Watch Serbias womens basketball players celebrate with fans
(Telegraf.rs)
Pošaljite nam Vaše snimke, fotografije i priče na broj telefona +381 64 8939257 (WhatsApp / Viber / Telegram).