Dacic: Kurti scored a big own goal against himself and against Kosovo
Dacic said that at one point the EU also took visa liberalization for Kosovo off the agenda, which had already been postponed to January 1, 2024, and assessed that Kurti began to face problems as to how he would explain everything that was happening in Kosovo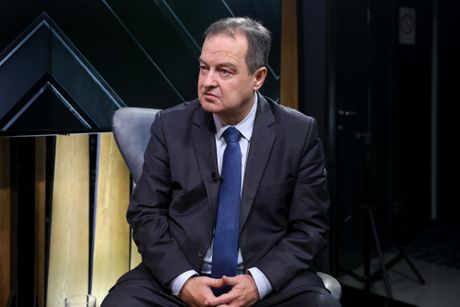 Minister of Foreign Affairs Ivica Dacic says that the representatives of Pristina are not aware of the position they are in and that they live "in their own world where they are still the favorites of the international community" but that the situation has changed, "precisely because of them scoring an own goal."
Dacic appeared on Prva TV and assessed that the prime minister of the provisional institutions of Pristina, Albin Kurti, did this against himself and against Kosovo.
"The proposal he rejected in Brussels was much more favorable (for Pristina) than what he accepted a few days later, under great international pressure," Dacic said.
According to him, that pressure went so far that even the US was ready to cancel various visits of their officials, cooperation and aid programs...
Dacic said that at one point the EU also took visa liberalization for Kosovo off the agenda, which had already been postponed to January 1, 2024, and assessed that Kurti began to face problems as to how he would explain everything that was happening in Kosovo.
"This is now a factor in his search for an alibi for why he did it, as if he has been given a date," said Dacic and added that March 2023, which Kurti is talking about, is nowhere mentioned as the date by which an agreement should be reached between Belgrade and Pristina, regarding normalization of relations.
"That date is nowhere to be found, nor is it mentioned, nor is it possible to talk about all this in such a way," said Dacic.
He added that it is in Serbia's interest to discuss and reach a solution rather than for this conflict to last a hundred years, but he also noted that Kurti is forgetting that he has to form the Community of Serb Municipalities (ZSO), that is, to fulfill what has already been signed.
"He didn't mention that anywhere," said Dacic.
Dacic stated that Serbian President Aleksandar Vucic is right when he says that this is our tactical victory.
"It is tactical, but it was not part of our tactics to crate crises now, so that we can emerge from them as winners. We have been constructive, no one can accuse Serbia of being to blame. For the first time, Kosovo was directly accused as the one responsible for the escalation of this crisis," said Dacic.
He said that the talks will certainly continue, but that he thinks we are far from the date set by Pristina, which, according to Dacic, has been artificially imposed and which everyone has denied, even the Americans.
Dacic stressed that it is important for us to know what we want and recalled that President Vucic said what our two fundamental values, the so-called red lines are - that Kosovo cannot be a member of the UN because that practically completes the story of their independence, and the second is the matter of security for our citizens, i.e. that any attack on Serbs in Kosovo and Metohija cannot be tolerated.
Asked if he expects more escalation in the area of Kosovo and Metohija, bearing in mind the upcoming local elections on December 18, Dacic said that those elections are also a factor of further escalation.
"They are constantly trying, just as they tried to assign parliamentary mandates to others, not the Serb List, to find some Serbs of their own who will work in their interest. That's how it was before the Brussels Agreement, because we had Serbs in those institutions, but Serbs who did not represent anyone. These elections have no chance of success, and if anyone thinks this will solve the problem, I think that is far from common sense," said Dacic.
Speaking about the situation with migrants, Dacic said that this is something that is no longer a part of the migrant crisis as much as a conflict over who will now organize the crossing of migrants.
He said that the majority of migrants are coming to Serbia and that currently most of them are from Afghanistan, and added that most migrants, 51 percent, come via North Macedonia, which they enter from Greece, while about 30 percent come via Bulgaria.
He added that migrants come to Serbia not with the desire to stay here, which is why they are looking for ways to cross the border (illegally) since they cannot enter the EU via official crossings.
"That's why all these conflicts occur", said Dacic and added that the police reacted well, that there must be order and that everyone must abide by the law, as well as protect our citizens.
He stressed that we must not allow ourselves to become the victim of the absence of a common EU migration and asylum policy.
Video:
With this agreement, there will be no fines imposed by Kurti, we have preserved peace: Petkovic after negotiations in Brussels
(Telegraf.rs)
Pošaljite nam Vaše snimke, fotografije i priče na broj telefona +381 64 8939257 (WhatsApp / Viber / Telegram).