5,000 Serbs sing with Dacic in Greece: Paralia echoes with "There, Far Away" (VIDEO, PHOTO)
Dacic's message to Serbian citizens was to vacation "where they are liked" - while he thanked Greece for its understanding of Serbia's problems, and for not recognizing Kosovo
At the closing of the office of the United Serbia (Jedinstvena Srbija) party in Paralia - a Serbians' favorite resort in northern Greece - Foreign Minister Ivica Dacic took to the microphone and sang "There, Far Away" with about 5,000 Serbs, in the middle of the street.
The song is written from the perspective of a Serbian WW1 soldier who is longing for his homeland, after the Serbian Army had to withdraw to Corfu, Greece.
Dacic told Serbian citizens they should vacation in those places where they are liked, and thanked Greece for understanding Serbia's problems and for not recognizing Kosovo.
He said he came to Paralia privately, at the invitation of United Serbia leader Dragan Markovic Palma. While addressing a large number of tourists and guests from Serbia and Greece, Dacic said that Serbs in Greece are not in a foreign country but in a country that, besides Russia, loves them the most.
"You are in a country where two great Serbian shrines are located, Hilandar (monastery) built by Stefan Nemanja, and the 'Blue Tomb', a (soldiers') cemetery in Corfu, where the heroes of Serbia, whom Greece gave refuge, rest. We are developing good relations between our country and the brotherly Greece," Dacic said last night.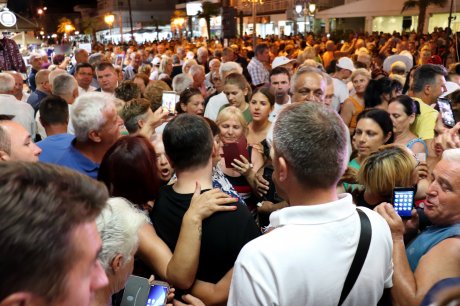 He urged Serbian citizens to vacation where they are liked, adding that they "should not to leave their money where they are hated, where Serbs are assaulted just because they support Red Star (football club)."
"Support Red Star tonight, no one here in Greece will bother you. In countries that are supposed to be more 'brotherly' than Greece they write criminal charges if somebody sings 'There, Far Away' - while here kolo (Serbian folk dance) will be danced tonight and nobody will bother you," Dacic said, after which those present, with applause and ovations, started signing, "There, Far Away."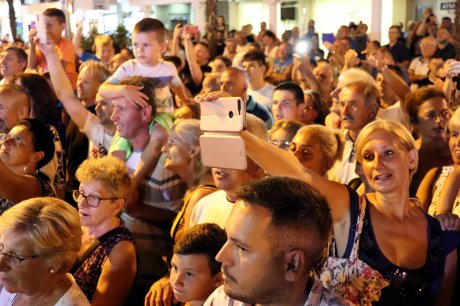 Dacic also said that Greece understands Serbia's problems and has not recognized Kosovo's self-proclaimed independence, and also spoke about many others in the world complaining because Belgrade is working have recognitions of so-called Kosovo withdrawn.
"We are fighting for Serbia, no matter how hard that is. We are threatened because of it, announcements are coming from different countries, from Kosovo, but we are not doing anything against someone else, we are defending what's ours. We want a peaceful life with everyone, but we will not let them take Serbian land," - Dacic said.
Markovic recalled that the United Serbia office in Paralia closes at the end of August every year, and said that 150,000 tourists from Serbia have visited the office in the last five years. He also said he would advocate for Greece continue to support Serbia on the European path, and for Serbians to be the most numerous tourists in Greece.
The official closing of the office was also attended by Serbian Ambassador to Greece Dusan Spasojevic and Dacic's son Luka. A part of the street was closed to traffic during the ceremony that featured Serbian dances.
(Telegraf.rs)