Boys who allegedly killed Martin terrorized the whole town: This time the brothers' attack was fatal
Martin lived with his mom and grandparents, and those who knew him claimed he was a good kid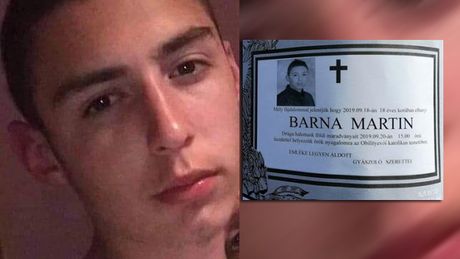 17-year-old Martin Barna of Novi Knezevac, was killed on September 13 - two months before his 18th birthday and coming of age was to be celebrated. It soon turned out that the boy's death was a case of peer violence, and that the suspects in his murder were known in this town for their problematic behavior - not only have they injured Martin once before, but they allegedly mistreated other children, too.
The suspects for the murder are the brothers M.D. (19) and J.D. (18), as well as two juveniles, aged 16 and 15.
Martin was returning home from a friend in Kanjiza that night, when he came across four young men in the center of Novi Knezevac - three of whom are brothers, while the fourth is their first cousin. According to unofficial information, an altercation occurred between them, after which the boys allegedly attacked the victim. They hit and kicked Martin so hard with their hands and feet that his liver burst.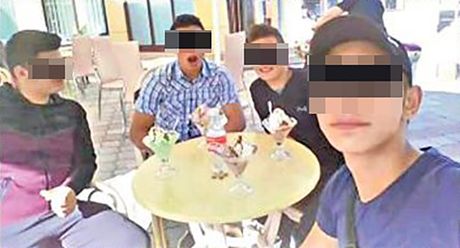 According to media reports, when they were done, they went to have a meal. Later, they returned once more to check whether Martin was alive. Seeing him lying motionless and not breathing in the grass, they allegedly covered him with leaves and cardboard and walked away from the scene.
The boy's body was found by a passerby in the morning, who alerted police. The suspects were soon under arrest.
MARTIN LIVED WITH HIS MOM AND WAS A GOOD KID
Martin attended the third grade of a local high school. After his parents divorced, he lived with his mother, Anita, and his grandparents. His father works in Hungary, where he learned the terrible news of his son's death.
Martin was buried on Friday at the Catholic Cemetery in Novi Knezevac. Since then, his friends on social networks never stopped saying goodbye to him.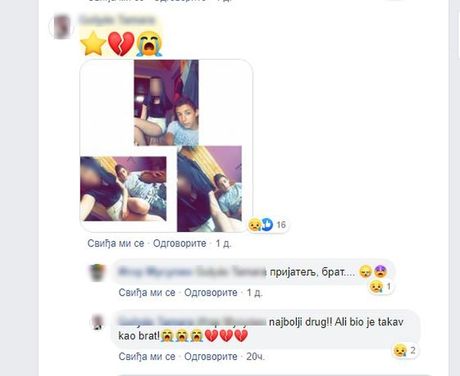 His family has been crushed by the terrible crime, all the more so since, according to his grandfather, the same group of young men assaulted and beat Martin a month ago. He ended up in the hospital at the time with head injuries, and the case was reported to police.
The boys suspected of this crime, three of whom are brothers while the fourth is their first cousin, are described by other locals as troublemakers prone to incidents. A message posted on Facebook by a resident of Novi Knezevac, who says he knew Martin and his mom, has been particularly chilling:
"I can say Martin was a good kid, unfortunately what shook us all has happened. Like any kid, he was sometimes mischievous, but generally good, he didn't deserve to end up like that. Great tragedy for such a small town! I know that the group of young men who have been arrested, assaulted and beat him before, but no one thought it would all end with Martin's murder. The group of young men have been extremely problematic for several years, and this summer especially because they beat several guys," said this resident of Novi Knezevac.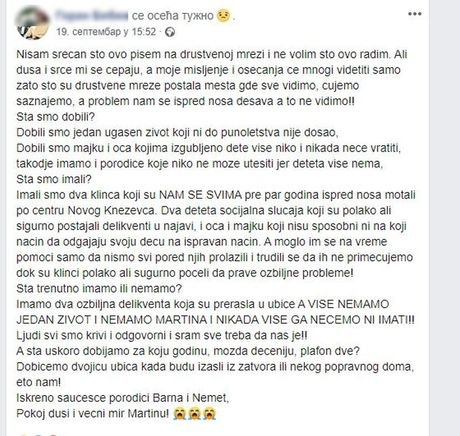 Telegraf.rs learned that a brawl had been reported to the police on August 13, between one of those now arrested, M.D., and the victim. At the time, Martin was found to have sustained minor injuries and, on the order of the prosecution, the police filed a misdemeanor charge against M.D.
Pošaljite nam Vaše snimke, fotografije i priče na broj telefona +381 64 8939257 (WhatsApp / Viber / Telegram).