First photo of Petar (13) from Stara Pazova after abduction: Swollen, bloody lip, parents in tears
The boy looks scared, but he is safe
Petar Mitrovic, 13, who disappeared on October 26 in Stara Pazova, was found late last night, and as members of his family told Telegraf.rs the boy had been abducted. He arrived at the police station in this town accompanied by officers and Minister Nebojsa Stefanovic. He left the car looking scared, while his mother and father ran toward him to meet him.
The cars in which members of the Stara Pazova police as well as those from Sremska Mitrovica arrived, and Petar was in one of them. The people who gathered began to applaud, eagerly awaiting to see the silhouette of the little resident of Stara Pazova.
When the abducted boy got out of the car, family members sobbed and cried, and the thirteen-year-old appeared with a cut and bruised lip before the locals who waiting to see his emotional reunion with his parents.
While he looked around him frightened and crying, his mother and father ran up to meet him, hugging him tightly. Petar cried wrapped in a blanket.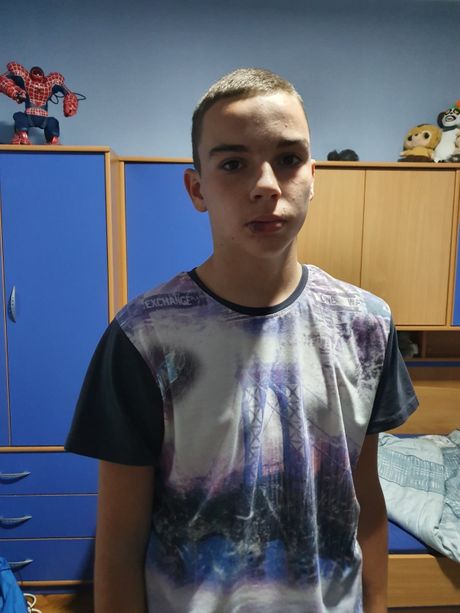 An exclusive photo obtained by Telegraf.rs, shows that Petar's lower lower lip is injured and that his face is swollen from the blows.
The boy was last seen on Zmaj Jovina Street in the center of Stara Pazova, and then disappeared. Before his disappearance he sent messages to his brother.
Petar Mitrovic (13) was found by the police in an abandoned house in the settlement of Belegis.
According to his father, Petar was in contact with his brother just before he disappeared, which was followed by a telephone conversation with his mother. However, just before the call ended, the boy said, "Take my blindfold off."
ALL COPYING AND DOWNLOADING OF VIDEOS AND PHOTOS FROM THIS ARTILCE IS PROHIBITED!
Video: Atmosphere in Stara Pazova awaiting the arrival of Petar Mitrovic, who had disappeared
(S.Cenad/J.Stakic)