Brnabic meets with Greek prime minister and president
Brnabic is on a one-day visit to Athens where she is taking part in the to 4th EU-Arab World Summit
Foto: Tanjug/Vlada Srbije/Slobodan Miljević
Serbian Prime Minister Ana Brnabic has had separate meetings in Athens today with the Greek president and prime minister, Prokopios Pavlopoulos and Kyriakos Mitsotakis.
Brnabic is on a one-day visit to Athens where she is taking part in the to 4th EU-Arab World Summit.
The 4th EU-Arab summit, held under the title "Strategic Partnership," brings together political and business leaders of the Euro-Mediterranean area to discuss regional economic and security challenges.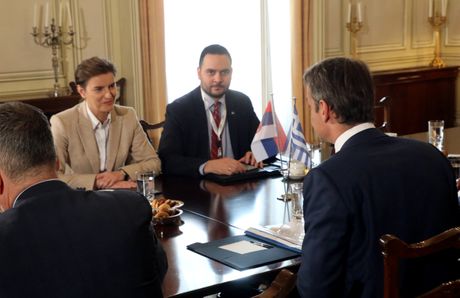 The Summit focuses on economic cooperation and investment topics, notably in the areas of energy, infrastructure, innovation, technology, and healthcare.
Prime Minister Brnabic spoke at the opening of the Summit on the topic of "Europe and the Arab World: Transition and Geopolitics" - along with Cypriot President Nicos Anastasiades,  and prime ministers of Greece, Croatia and Albania, Kyriakos Mitsotakis, Andrei Plenkovic and Edi Rama, her cabinet announced.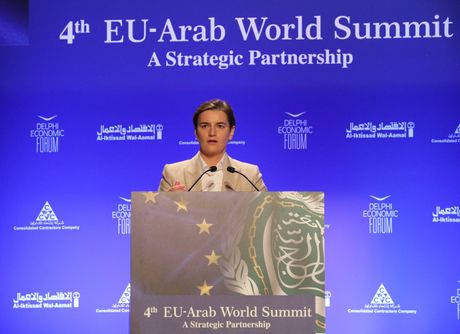 As it has been assessed, strengthening cooperation between Europe and the Arab world, especially in the fields of economy and diplomacy, is today crucial for preserving and enhancing regional and global stability, while Brnabic's participation in the summit expresses Serbia's commitment to having a more active role in stabilizing the circumstances in the Euro-Mediterranean area and strengthening political, security and economic ties with partners from the Arab world.
(Telegraf.rs/Tanjug)