Jevrosimovic: World Championship is dream come true, probably biggest sporting event in our country
A thunderous applause for Serbia and a recognition for the team, says the president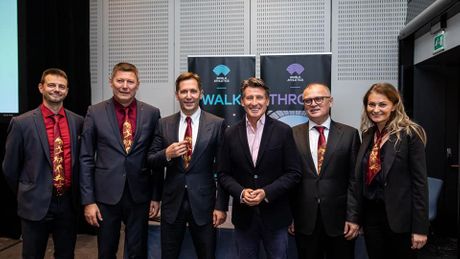 Foto: Facebook / Veselin Jevrosimovic
President of Athletics Federation of Serbia Veselin Jevrosimovic has collected impressions with his associates and assessed that being given the organization of the 2022 World Athletics Championship is probably the biggest sporting event in our country.
Jevrosimovic also addressed and responded to the criticism that the Federation suffered when it was left behind China in the fight to win the organization of the World Championship this year, speaking about why athletics as a sport in Serbia has seen dramatic resurgence.
"In Monte Carlo, Serbia received a great recognition and trust from the world. We won the organization of the World Athletics Championship, Belgrade 2022. In the same place two years ago, we lost that same championship organized in 2020 by only three votes, to the great China. The honorable defeat did not affect me as much as malicious comments and insinuations from those who couldn't wait for failure to occur, casting a shadow on the ten years of hard work and success, 16 stadiums and two arenas that have been built, dozens of medals won in world and European competitions, the European Cross Country Championship, the European Indoor Championship and many other countless competitions."
"Many have forgotten overnight where we were ten years ago and where we are today. What might have demoralized many, stimulated my team even more. We were all unanimous at the time in saying this is only half-time, in two years the World Championship must be ours, we will not give up. We worked hard for two years correcting where we had gone wrong and seeking the support and confidence of the world community, that we are capable as a nation of organizing such a major sporting event, probably the biggest in our country. We received that trust last night in the form of a huge round of applause and no votes against. The world has voted and given its support to Serbia, and I personally thank the government of the Republic of Serbia, the Olympic Committee, the Ministry of Youth and Sports, the city of Belgrade, who have been supporting us all these years."
"This is a team victory of the Athletics Federation of Serbia, of Sloba, Nesa, Bilja, Katarina and many others. This is a thank you to the entire athletics community and to all those who have supported us, and had trust in us during the past ten years. Together we reached the goal. The dream has become the reality, A DREAM COME TRUE," the Athletics Federation of Serbia president wrote on Facebook.
Serbia was the opportunity to organize the competition in a ceremony held in Monaco last week, and the event will be hosted by Belgrade.
Video:

Veselin Jevrosimovic talks about the Serbia Marathon: A big event that will become traditional
(Telegraf.rs)