"Dad, dad": Horror footage from Albania, children crying after earthquakes that took 6 lives
Two earthquakes hit Albania during the night and this morning
At least six people were killed in a strong earthquake that hit Albania this morning. Horror photos and videos are appearing on social networks in its aftermath - one of them showing children crying and calling to their parents.
The video, shared on social media, shows a boy in the arms of a man, with the debris all around them.
The boy is scared and crying, and then all of a sudden, in the background, someone yells, "Dad, dad."
#Earthquake #moment #children #Albania 😭😭 pic.twitter.com/hmgjUXMv4M

— Endri (@endriarizi) November 26, 2019
All of this is taking place in the dark as people around them are trying to light the area with flashlights, searching for the injured.
While the man is holding one boy in his arms, he seems to be talking to someone under the rubble, but it's not clear from the video if another child is trapped underneath.
poor kid 😔#Albania #earthquake pic.twitter.com/ZA0UwkvpLw

— Rinor (@rinordubovaa) November 26, 2019
See what the rescue operation looks like from another angle:
According to the latest information, at least six people lost their lives, but there are fears that this number will rise.
A Health Ministry spokeswoman said two bodies have been pulled from a demolished building in Durres. A total of three victims have been reported in Durres so far, while two were found in Tuman and one in Kurbin.
The ministry said 300 people have been injured so far in the three cities, but that new casualties are arriving to hospitals.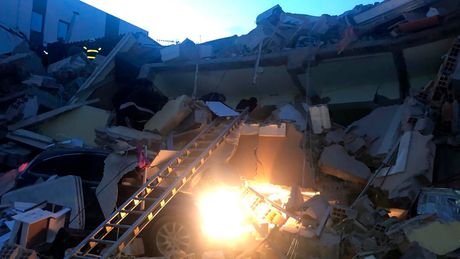 The epicenter of the two magnitude 6.4 and 6.5 earthquakes was near Durres, Albanian broadcaster Top Channel is reporting.
The earthquakes have also been felt in Serbia, Montenegro, North Macedonia and across the region.
Video:

Strong earthquakes wreaks havoc in Durres and around Albania
(Telegraf.rs)