Serbian delegation in Tirana during earthquake: People were crying, shaking, we were on 20th floor
Aleksandar Radovanovic, head of the Regional Cooperation Center of the Serbian Chamber of Commerce was in Tirana for an international fair, together with representatives of Serbian companies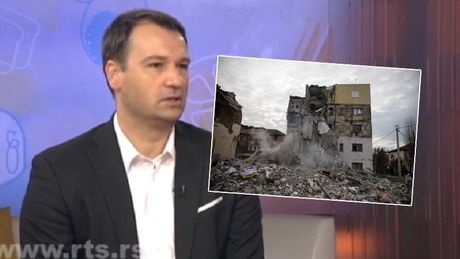 Printskrin: RTS, Tanjug/AP
A new earthquake in Albania, which shook the region on Wednesday, happened as a large business delegation from Serbia was in town as guests at the Tirana International Fair.
Aleksandar Radovanovic, head of the Regional Cooperation Center of the Serbian Chamber of Commerce was at the Tirana Fair together with representatives of Serbian companies. He was on the 20th floor of a hotel in Tirana when the earthquake happened.
"I didn't have time either to be scared or to act according to the rules that are advised, to behave in certain ways in such situations," Radovanovic told the morning program of the RTS.
He said that it was immediately clear that an earthquake was taking place because the hotel's infrastructure and pipes started emitting a high-pitched sound.
Immediately after the earthquake, all parks and squares were full of people.
"People reacted differently, some were crying, some were shaking. At that moment, Tirana looked like the busiest rush hour was taking place - the streets were completely jammed, a traffic collapse was taking place all over the city," Radovanovic said.
Despite the earthquake, the scheduled meetings with Albanian partners were held later in the day. However, the earthquake affected the duration of the fair, which was shortened to about five hours.
Video: Everything started shaking just as Thaci was making a statement to the press
(Telegraf.rs/RTS)