Red Star prepare 800,000 euros for the pearl of Serbian football, Dinamo Zagreb is out of race!
As Telegraf has learned unofficially, Red Star Belgrade are ready to pay the release clause from Mirko Topic's contract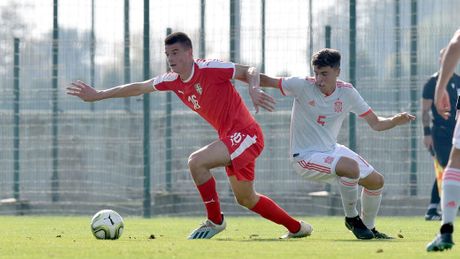 Foto: MN Press
Red Star want Mirko Topic, 18, and are ready to set aside 800,000 euros for the pearl of Vojvodina FC, Telegraf has learned unofficially!
There had been information that Dinamo Zagreb also wanted to sign Topic - but as we found out, that option was not even considered, because the father of this football player is a proud Serb from the Serb Republic and the possibility of his son playing for the Croatian club was ruled out.
In his contract with Vojvodina which expires on June 30, 2021, Topic has a release clause under which he is free to leave in the event that a club presents an offer of 800,000 euros!
Vojvodina are aware that there is a lot of interest in their footballer and are now trying to sign a new contract with Topic to prevent him from leaving for 800,000 euros.
However, the club no longer has the last word and it is up to the footballer to decide where he will continue his career - if he accepts Red Star's offer, which should soon be made officially.
Topic is a defensive midfielder, who has so far this season played ten games for Vojvodina, with no goals or assists. He is also a member of the Serbian under-19 national team.
Check out some of his moves:
Video:

Milojevic announces locker room cuts for the winter
(D.U.)