New app for tourists and Belgraders: Learn about 29 places in Kalemegdan with your virtual guide
The app's languages include Serbian, English, German, Russian, Chinese and Turkish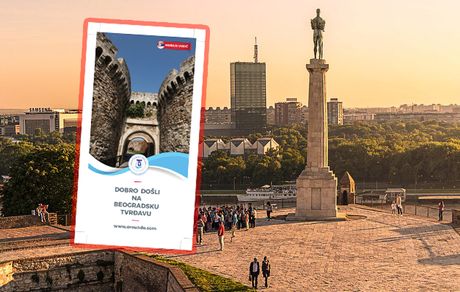 With the help of an application created by the Tourist Organization of Serbia, anyone who comes to Kalemegdan and the Belgrade Fortress can have their own, "private" tour guide, who speaks six languages: Serbian, English, German, Russian, Chinese and Turkish.
The app is called Oroundo, and if you can't find it on the Google Play Store you can scan the QR code that can be found on billboards across the city.
The app has a map, a "guide" that automatically detects your language (the phone's system language), and also features text descriptions of content, along with photos and videos.
This way you can get to know the fortress from your home - it allows tourists to see the biggest landmark of Belgrade before visiting it.
29 points in Kalemegdan are divided into three segments - Upper Town, Lower Town and Kalemegdan Park.
"My phone 'speaks' English because it is set to English, so this is a smart application that actually downloads the (version of the app in) the language in which the phone is set-up. There are 6 languages ​​available in total. We were guided by the official data of the Tourist Organization of Serbia and the Tourist Organization of Belgrade on the number of visitors, that is, where they come from," Ana Rajic from the Belgrade Fortress company told a Prva TV journalist, with whom she tried out the new app on the ground.
(M.B.)
Telegraf.rs zadržava sva prava nad sadržajem. Za preuzimanje sadržaja pogledajte uputstva na stranici Uslovi korišćenja.