I was homeless, we slept in the car: Rashawn talks about tough times, ghetto, "fight" with Trinchi
The Partizan Belgrade basketball club player reveals which Red Star basketballer he would like to see in the camp of the rival he plays for - as well as little known details from his childhood; He also recounted how he went from "Yu-Gi-Oh" cards and life on the street, to college basketball, and Partizan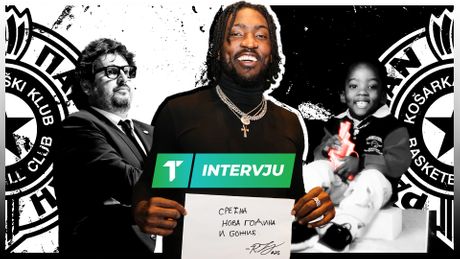 Good defense, attractive dunking and crazy hairstyles are his trademarks. He is one of the Partizan fans' favorites, and this "love at first sight" is mutual. Rashawn Thomas, the NFL superstar that never quite came to be, LeBron's teammate, and the Wall Street and Silicon Valley businessman that never materialized - has replaced basketball courts across America with these here in Serbia. And, he says, he never regretted it.
This season, with his performances in the ABA League and the EuroCup, Rashawn has very much contributed to keeping the black-and-whites (Partizan) in an ideal spot in all competitions, and so, after many years, talk gets even louder about the EuroLeague- something the club has set as its ultimate goal.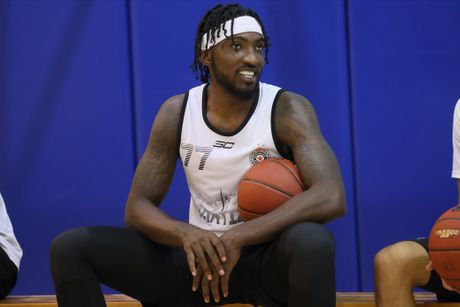 Although basketball players who come from the United States are often considered serious and "dangerous" guys - Thomas is the exact opposite. He is always smiling and in the mood to talk, and says that nothing can upset him. Accidentally, he terrified his fans when, last summer, before joining the club, he got in trouble with the law in the US. He is also said to have quarreled and "fought" with Partizan coach (Andrea) Trinchieri - nicknamed Trinchi. Still, in his own way, with a big smile and a lot of energy, Rashawn explains that everything is not the way it seems, and he reveals his life story to Telegraf.rs - which, with a lot of emotions, we unpacked from tears to laughter.
GROWING UP IN OKLAHOMA - THE GHETTO AND BASKETBALL "IN THE HOOD"
He was born in Oklahoma, described as a small state with many beautiful landscapes and untouched nature. Still, Rashawn admits that life in the city itself is a bit like that in the movies - when basketball is played "to the death" in the ghetto.
- I have a younger brother and a younger sister. I grew up with them, my mom and my stepfather. The five of us lived together and that's my connection to my childhood. It was as safe as a ghetto with many kids playing around gets.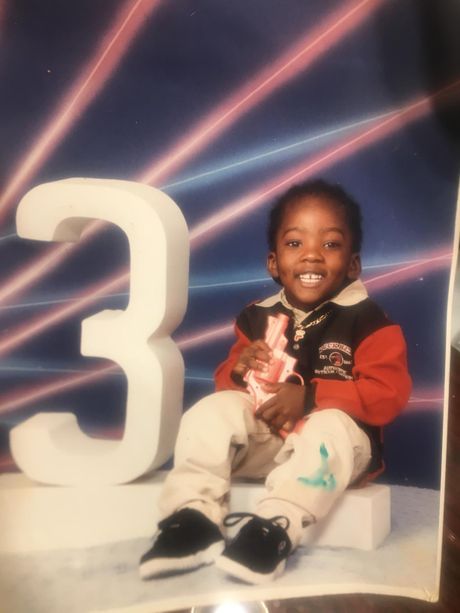 Very soon, the basketball replaced a pink toy gun with which he posed as a 3-year-old.
- I learned to play basketball in a court not far from where we lived. There was also an abandoned church. I remember trying to dunk, and coming back every day. It was difficult, but the advantage was that the hoop was slightly lower. I was there for hours and hours after school. Life on the street came and the rest, my mom was waiting for me at home.
NOT-MEANT-TO-BE BUSINESSMAN AND CHESS MSTER - SCHOOL COMES FIRST
Most professional basketball players generally choose the sport as young kids. But Rashawn had other priorities, as he points out - while basketball was a hobby. He dreamed of getting an eduction, becoming a businessman who, wearing a suit and tie, would run his own business.
- Everyone thinks I wanted basketball. In fact, I was a nerd. I was always this a smart kid and one of the best in the class, I was a member of the chess club.
- Actually, I wanted to be a businessman. I started playing basketball so that I could educate myself and learn. In America, when you're good at basketball, you can get a scholarship. But, over time, I fell in love with the game and went from one of the worst young basketball players to one of the best in the entire US. Then I thought it might be my calling.
HOW THE TURTLE BECAME THE LION
The journey to the goal was not easy. Although over the years the passion for basketball grew, as did the desire for education, everything had to be justified by playing well to guarantee the scholarship. It was a time when basketball was not the number one sport for Rashawn.
- I had no experience before high school and then college. I just played some tournaments for my school. I didn't know what it meant to play for a club. It wasn't until I was 18 that I was in a kind of a club, with which we played the summer basketball league. Nothing more.
- I knew my parents couldn't afford to send me to college, so I had to use my athletic skills. In fact, I should have been playing (American) football because I can be athletically aggressive. I was good at it. But I was late and when I came, after two weeks, all slots had been filled at the Oklahoma school and my application was denied. I had to wait for the next season. So I said to myself, let's go to basketball. And, in my case, when you switch to basketball, you must train, run and really get in shape," he points out, adding that he did not know what the game of basketball was like was until he "gave in" to it:
- So I realized how demanding it was because I was the slowest and the worst on the team. They used to call me 'the turtle' and sometimes, 'the snail'. Every day I came to training sessions knowing I was the worst. Somehow the coach kept me on, and I'm glad he did. The very next season, I loved the game more and more. I decided to focus on one sport and dedicate myself to it. When I got the scholarship, I still thought it was difficult, but things were getting better.
 

 

 

View this post on Instagram

A post shared by Ra☀️ (@rthomas25_) on
So 'the turtle' has succeeded - but when the journalist said it had become 'the rabbit' - Thomas took exception.
- The rabbit? I'd say the lion. I like to say so because I succeeded with my hard work. That's how I came to college, and I was named the best there. It was clear to me that I would play basketball professionally. As soon as I started playing basketball seriously, I became fully committed to the sport. I was still a good student, but basketball came first.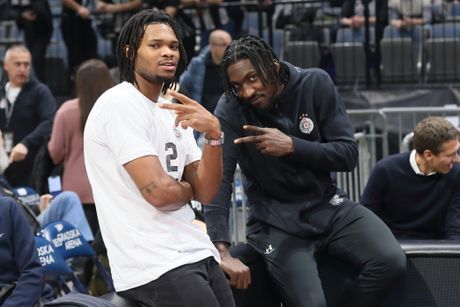 A HOMELESS MAN WHO ACHIEVED HIS DREAM
In a country where millions of people play basketball, it's not easy to break out from "the ghetto" - from a court that people in Serbia see only in movies - to the stars. As is the case with everybody else, there have been many ups and downs in Rashawn's life. Still, one moment is especially important. He will remember it forever. After my question about the "hardest, saddest moment of his life" - there was a long pause and his thinking about whether to speak about what still affects him so much today, and brings him back to a time that he wants to forget forever. He decided to share his story.
- Oh man... There were a lot of sad moments. But I'd probably say one of the saddest moments of my life was when I was younger. My family had to be homeless for a little bit. I think that was the saddest moment of my life that I can distinctly remember. It probably pushed me to sports. We were together then but it was probably one of the saddest moments. We got kicked out of the house, we were living out of our car for a little bit, that was probably the saddest moment.
Video:
Living without a dime and the saddest moments in life
After just these few words, Rashawn was no longer smiling, but on the verge of tears, in a moment reliving the "nightmare" that set his path. Fortunately, there were some good things, too.
- The happiest moment was when I first became a pro, when I first signed that contract with the Thunder, it was my hometown where I grew up," he said - and then I reminded him of the football derby between Red Star and Partizan.
- Oh yeah. That was just madness, I never experienced anything like it. The rivalry ran so deep, the fans shooting flares at each other, everybody going crazy... and when we the goal came, and we scored - I went crazy. That was the funnest I had. I think you saw that on my Instagram. YU-GI-OH CARDS BEFORE NBA LEAGUE
Like many things in life, basketball came about by accident, as did the dream of the NBA League.
- I never watched or analyzed NBA teams as a kid. I used to watch cartoons, collect Yu-Gi-Oh trading cards, things kids do. But when I first started, LeBron James was a guy who was my role model and with whom I connected as a basketball player - he points out and recalls the 2017 draft when he was not picked, after which he played for the Oklahoma development team.
- There were 13 or 14 open NBA training sessions with different teams in my school before the draft. I knew Utah called my agent to select me in the second round of the draft. But they also wanted to "waive" me. And I wanted to make money, for the reasons I already mentioned. I had to, because of my family. I decided not to be drafted. I think I made the right decision. I also played the summer league, I know a lot of guys from the NBA. It's a thin line between all that and it takes some luck. Europe is just fine, many would not be able to play here.
"EX-FAT KID'S" SHOCK - EUROPEAN BASKETBALL, AND DINAMO SASSARI
That's exactly how he decided to embark on a new adventure.
- After the summer league, we waited for the NBA teams, because there was a chance I would sign for one of them. As things go faster in Europe, offers came from clubs. Americans think basketball is the NBA, I thought it was a new experience. When you see how people live, you meet new people, cultures, you really feel what is happening out there. I thought, how crazy can all this be. These are all values ​​and experiences I should get. I wanted to play a serious role on a team.
- It was a shock when I came to (Dinamo) Sassari. Nobody spoke English, only Italian, stores closed in the middle of the day. You could stroll through the city looking for something to eat and getting told everywhere, 'We don't serve food at the moment'.  The food is different, the taste is different ... Luckily, having once been a fat kid, I'm not as picky as many Americans are.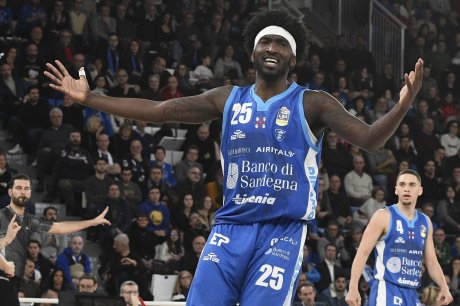 PARTIZAN AS THE RIGHT CHOICE - BEFORE EUROLEAGUE TEAMS
As he points out, he knew a lot about Partizan even before he received the offer to join the Serbian squad. The offer from Serbia further reinforced her desire to come here and help.
- After Sassari, offers came from many big clubs. First, my agent put all the EuroLeague club offers on the table, there had been a few. But then, he said, here is Partizan. I heard about the club from some teammates and I realized it was a great chance. A big club with a great history and a fan base was something that was tempting. Also, there was the head coach, Trinchieri. When we spoke, he let me know he needed me and I really felt that way. Many coaches talk that way, but with Andrea it seemed real. I wanted to help bring the club back to that glory and be a part of it. Taking the fans into consideration, it's a big challenge and a big potential reward for me as a basketballer.
- I knew this was one of the best teams in European history. You hear stories that this or that is the best, and I heard about Partizan all the time. I also watched the fans support the team and said to myself, you got to play there.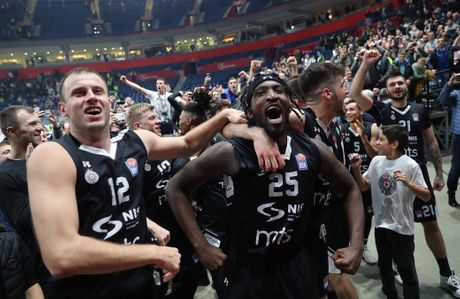 The arrival to Belgrade itself was turbulent because he was presented as a Partizan reinforcement - to then run into trouble when several ecstasy pills, 3.5 grams of marijuana, as well as two bottles of hashish oil were found in his car back in the US. At the beginning of the season he explained what happened.
- I was in the wrong place at the wrong time, but now it's behind me. Now I'm committed to this team and the new season," Thomas said at the time, during a Partizan training session.
Since then, he's been giving off the impression of an athlete who is dedicated to the team he is playing for. He himself confirms this.
- I feel the passion for that Partizan crest. Lots of passion everywhere. When I walk into a building and see all the people in the club and in the stands, when I come to training and the game, I see it. Commitment, desire and passion - he says and continues his story about the fans.
- I saw that the fans were split. My teammates explained it to me. We often talk about how cool it would be if they were united, especially this season. We are making good progress, the team is getting stronger. That would be crazy.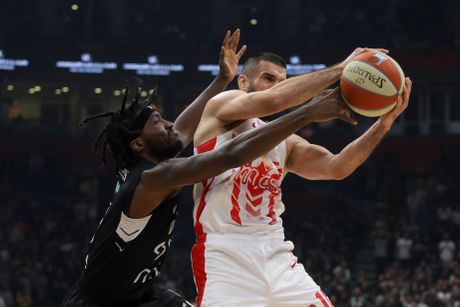 WHICH RED STAR PLAYER WOULD HE CHOOSE AS A TEAMMATE
From day one, he was made aware of the rivalry between Red Star and Partizan.
- I heard about the rivalry. But as soon as I came, they told me. But I'm not paying attention. The fans give me the energy. They show me a lot of love and respect when I'm out on the street, when I do something crazy, everyone likes it. It's completely different when you are in the court and have their support, it's like there's another player with you," Rashawn notes, and then gives a somewhat unexpected answer to the question - which star player he would like to see in Partizan:
Video:
Partizans center reveals which Red Star player he would like to see in Partizan now
THE STRUGGLE AND THE "FIGHT" WITH TRINCHIERI
The very mention of Andrea Trinchieri evokes special emotions in Rashawn.
- What about him - he asks with a wide smile, and continues:
- He's a 'crazy' guy. He's a good guy. I heard he was a tough coach and I was thinking... ok - but he's probably the toughest coach that I've had. But we have a relationship, we got close. He's a good guy. He means well. He will yell at you all day, all night, every day - but he's a good guy, he wants you to get better. So far, he's the toughest coach I've had - he stressed, and denied media reports about an alleged altercation and a fight. Still, he reveals who's more powerful.
 

 

 

View this post on Instagram

A post shared by Ra☀️ (@rthomas25_) on
- No, no, no. I would probably say - I'm stronger, but he's more powerful and loud. I mean, I'm 'crazy' and I like to have fun and joke. I often go into the locker room and talk. Coach Trinchieri immediately said to me, "Hey, Rashawn, I don't want to hear you today. I'm here and I don't want to listen to you."
Video:
Partizans center talks about fighting and quarreling with Trinchieri
BELGRADE - AND WHO IS RASHAWN THOMAS - BESIDES BASKETBALL?
Belgrade is a city that has offered a lot of fun to the American.
- I've been to discos, the clubs on the river are very good. I like the food and the restaurants. I didn't know Belgrade was such a cool city before I came here. Like any major city in the US. Still, I don't go out much because I have so much basketball. I tell myself to go here and there, to visit this and that museum or restaurant... Then, I have a day off and fall asleep instantly.
SERBIA AND THE PASSPORT - FOOD, MUSEUMS AND ... GIRLS
A chatty person like Thomas is able to get "completely silent" if only you ask him about the Belgrade girls.
- Yeah... yeah, yeah, yeah... - he was taken aback completely.
- I'm not married, I'm single. Every night it's 'jingle and mingle'. You can hang out everywhere, in the museum, at the coffee bar...
Video:
Shy Rashawn Thomas gets confused when asked about Belgrade women
 

 

 

 

View this post on Instagram

A post shared by Ra☀️ (@rthomas25_) on
LAUGHTER AS THE BEST MEDICINE
There is nothing concrete that annoys him all the time. As he says, everything that frustrates him accumulates into laughter.
- That's a good question. When I'm losing, it makes me into a different person. When I have a super bad day in training, when I do something wrong during a game and when we lose it makes me sit down with myself and think about everything. It affects me often, sometimes I can't sleep. I admit that this is the only thing that shuts me down completely. Then there are no museums, no cafes, no girls, nothing. Then I'm with myself.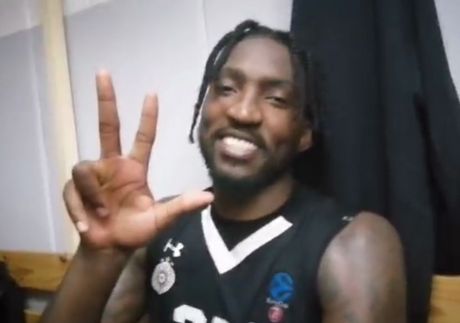 RASHAWN - A FUTURE SERBIAN SON-IN-LAW?
It seems that life in the Serbian capital is good for the Partizan basketballer, who is not ruling out the possibility of staying here for a longer period of time.
- I thought about it. To be here, to play here for many years. I would stay here and imagine myself with a Serbian passport, get married and stay. Who knows?
US NATIONAL TEAM OR THE NBA?
After all he's been through, the NBA would be a challenge to him.
- I would say the NBA. I played twice for the national team. I kind of know what that's like. It's over quickly, one reunion, or one competition, while the NBA is non-stop.
Curiously, he would even play for the New York Knicks - even though it's one of the teams known in the league for its defeats.
- Yes I would. Although, in my career I've never played for a team losing so much and to which losing is normal. I don't think I could function that way, though.
NEW YEAR'S MESSAGE FOR PARTIZAN FANS
The end of a year is a period where we often make some "resolutions"  to make the next one better. Not Thomas, though.
- People usually do it. But I don't. I don't even think about it. In recent years I've been away from my family so I distance myself from it. I'm a little sad because I'm alone. I'm learning to make my day normal and that's it, - he says, and explains why he doesn't want to "reveal" his Serbian language skills.
- Oh no, for the sake of the fans I don't want to desecrate the language and offend anyone. I'm not good at it yet. Everyone speaks English here and I have no problem with the language. My teammates teach me some things, I forget, because afterwards everyone in the restaurant and in the street speaks to me in English. I'll prepare better for our next interview.
- I wish you much love, thank you for all your support and 'stay connected'. We Grobari (Partizan fans) have much more to achieve! There's Europe and the EuroLeague - 'stay tuned'!
(Sasa G.)
Telegraf.rs zadržava sva prava nad sadržajem. Za preuzimanje sadržaja pogledajte uputstva na stranici Uslovi korišćenja.