EXCLUSIVE! Partizan to get 15 million euro offer for biggest talent: French wants Filip Stevanovic!
The black and whites are asking for three million more, and the French have given them 15 days to decide whether they want to sell the midfielder this winter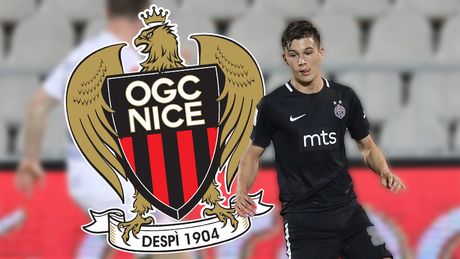 Foto: Marko Jovanović, Wikimedia
Recently, the transfer of Strahinja Pavlovic to Monaco stabilized and financially secured the Partizan Belgrade football club, then an offer from Qatar for Umar Sadiq (also 10 million euros) got the black and whites into a serious dilemma, but a sweet temptation is arriving from France now and the question is how the club from Humska Street will resist it. Telegraf has learned that Partizan will in 15 days have an offer on the table from Nice for Filip Stevanovic and that it amounts to a whopping 15 million euros!
The mediator in the deal, just like in the case of Strahinja Pavlovic and Monaco, is the former Partizan ace Milonja Djukic, who successfully works in the French market and who has practically placed an offer on the table to Partizan from Nice for the talented midfielder.
Partizan at first rejected the "attack" of the French club saying that compensation for Stevanovic was 3 million euros more - 18 million - and that in the event that Nice ups the offer to the said amount, they could sit down and discuss possible business cooperation. On the other hand, the French are still at the originally offered sum, giving Partizan's leadership a deadline to decide in the next 15 days whether to sell Stevanovic this winter.
Should the transfer happen, Nice and Partizan would have to resort to the obligatory loan model, since Stevanovic is a minor and UEFA has strict rules in that case.
Therefore, the transfer would be realized within the current winter market, but disclosed only after September 25, when Stevanovic becomes of age - and the question is whether the midfielder would remain in Humska as a player on loan until next winter or until the summer of 2021.
Nice is currently ranked 11th in the French Ligue 1, led by football legend Patrick Vieira. The value of the team, full of internationals, is 187 million and like most clubs there, they tend to buy young, talented footballers and later sell them for huge sums.
As for Filip Stevanovic, he is one of the most talented products of the Partizan Youth School in the last 15 years, and is currently bound by contract to Partizan until the summer of 2022 (the contract was renewed in September).
During the current season he played 22 games for the club in all competitions, scored five goals and had two assists.
Video:

Take a look at the magic of Partizans pearl and dribbles that are rarely seen in Serbia
(Telegraf's reporter from Antalya, Zoran Ivkovic)