Vucic meets with general secretary of the Muslim World League
Aleksandar Vucic welcomed Rabita's activities aimed at promoting tolerance, inter-religious dialogue and respect for religious rights, according to a statement from the President's Office for Cooperation with the Media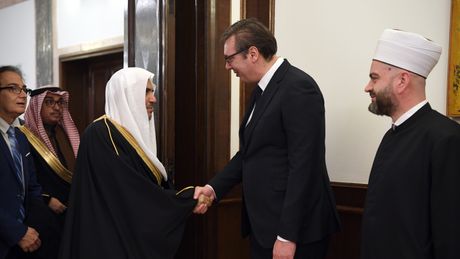 Foto: Tanjug/ Predsednistvo Srbije
Serbian President Aleksandar Vucic met today with General Secretary of the Muslim World League - Rabita Muhammad bin Abdul Karim al-Issa to discuss steps to improve cooperation, expressing satisfaction that it begins with this visit.
Aleksandar Vucic welcomed Rabita's activities aimed at promoting tolerance, inter-religious dialogue and respect for religious rights, according to a statement from the President's Office for Cooperation with the Media.
In connection to this, he stressed that the great importance of the Rabitat's relations established in the Orthodox world, and that in this regard he especially appreciates today's meeting between Secretary General Al-Issa with Serbian Patriarch Irinej. President Vucic said that the Muslim community in Serbia is respected, while great care is being taken regarding its position, also respecting all Islamic countries.
"The tradition and culture of various Islamic countries is also close to the Serbian people through the Non-Aligned Movement. That is why, as a sovereign and independent country, we want to deepen our cooperation with the Muslim World League and the Organization of Islamic Countries," said President Vucic.
He cited the example of good relations and excellent economic cooperation between Serbia and the United Arab Emirates. Secretary-General al-Issa said that he is very happy to visit Serbia, where he came in a friendly and loving way and added that he will leave it enriched with Serbian values. He stressed how much he appreciates President Vucic's efforts to preserve harmony not only in Serbia but in the world.
President Vucic and Secretary-General Al-Issa agreed to host a Rabita conference in Belgrade this year dedicated to the links between Orthodoxy and Islam, as well as other religions and to be attended by the representatives of different religious communities from all over the world would, whereby Serbia would also be presented as a country open to all faiths and nations.
(Telegraf.rs)