Ethiopian school built with Yugoslav money: No windows or toilets; two students sit in one chair
Built in the middle of the last century, it was opened by Emperor Haile Selassie himself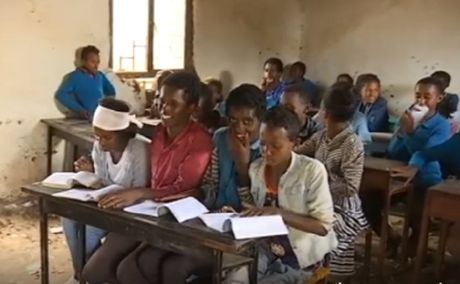 Located in a region known as the Horn of Africa, the Federal Democratic Republic of Ethiopia is the second most populous country on the Dark Continent. Most of those people are young, but the trouble is that there are not enough schools. One of the schools was built in mid-last last century with Yugoslav money.
About 30,000 people live in the Managesha area. Most live off agriculture and livestock. The Ethiopian government is trying to reach as many children as possible through regular education and thus improve the general education system in that country, RTS reports.
A school in Managesha was opened by Emperor Haile Selassie himself 50 years ago. What is interesting is that the school was built with the funds provided by the Yugoslavs who used to live in Ethiopia. "There are currently 1,023 primary and secondary school students in the school. Compared to last year, we have enrolled 565 more students as the population here in Managesha is increasing rapidly. Next year, we expect to enroll a thousand more students than this year," says school principal Derege Tsegaye.
Tough conditions
The school is working in very difficult conditions today. The part of the building that was built from donations made by Yugoslavs who lived there is no longer in use. It has no toilets and no windows. In classrooms, students sit two in a chair.
School children say they have no water, no toilets, while the classrooms are very crowded. They say they don't even have chairs to sit on, there are no books in the library, while it's very important for girls to have toilets and hygiene supplies that they need.
Any help is welcome
Abe Hunde graduated from this elementary school 30 years ago. His children are attending it today. "The school is a unique cultural monument. We try to get make sure it stays open and raise money for repairs," Hunde says.
Thanks to the locals, the part of the school where the classes are held regularly has been fitted out. As we have been told here, any help and support from Serbia is welcome.
Video: She came to Africa to teach children to dance, they ended up teaching her
(Telegraf.rs)
Pošaljite nam Vaše snimke, fotografije i priče na broj telefona +381 64 8939257 (WhatsApp / Viber / Telegram).