An incredible phenomenon that brings tourists to Serbia: See the dance of Tisa mayflies
A fairytale scene unique only to Serbia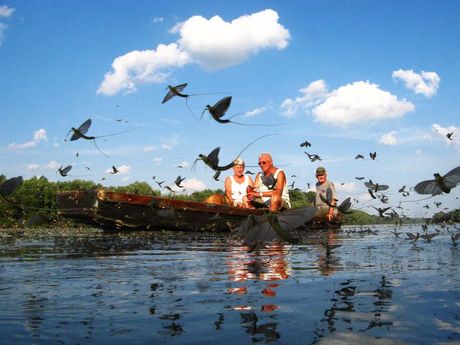 The "blooming" of the Tisa mayflies (known in Serbian as "Tisa flowers") is a unique natural phenomenon that occurs throughout the Tisa River. The incredible atmosphere, accompanied by the romantic ritual of releasing floating candles to burn on the river, attracts more and more people from Serbia, but also the region, to visit Novi Becej and enjoy the unusual event.
Every year, from spring until early summer, an incredible natural spectacle transforms the Tisa River. Millions of mayflies (Palingenia longicauda) rise from the river, flutter on the surface of the water, fly in swarms and mate, all in the spac of just a few hours.
A unique event that lasts three to four days, this is often referred to as the "blooming of the Tisa" and is one of the most fascinating natural phenomena.
Tisa mayfly is an ancient species of insect, the largest species of mayfly in Europe, about 12 centimeters in size.
Unlike most butterflies, adult Tisa mayflies never leave the water.
The insect spends most of its life (three years) developing as a larva in the mud at the bottom of the river. After coming to the surface, the males have only a few hours to find a female and mate with it before they die.
The blooming of the Tisa is actually a dance of insects, during which the male and the female mate, and after fertilization and egg laying, the male dies first, and then the female...
After mating, the females fly over the surface of the river a few kilometers upstream. The eggs are placed at the bottom and after 45 days the larvae come out, digging tunnels in the mud, forming dense colonies. After three years, the larvae break through to the surface and an adult mayfly appears.
 

 

 

View this post on Instagram
These surprisingly large insects dance above the surface of the water, covering the river bank and any other accessible surface, including cars, roads and people.
Legend has it that at the time of the blooming of the Tisa, those who light candles in licider (gingerbread) hearts, fulfill their love wishes.
(K.M./Telegraf.rs)