Novak Djokovic has coronavirus!
The best tennis player on the planet got the short end of the stick after being in the company of Grigor Dimitrov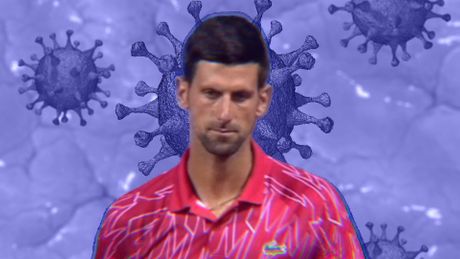 Printsrkin: Sport klub
Novak Djokovic is positive for coronavirus! He left for Belgrade from Zadar on Monday, with his whole family and in accordance with recommendations of epidemiologists, because he had been in contact with Grigor Dimitrov.
After testing, it was confirmed that Novak is positive, as is his wife Jelena, while their children are negative.
On Sunday evening, half an hour before the final match of Adria Tour was to begin in Zadar, Croatia, Dimitrov announced that he was positive for COVID-19, after which the final of the second weekend of Adria Tour between Djokovic and Rublev was canceled.
As many as 22 people with whom the Bulgarian was in contact were tested on Sunday night and three results were positive - Christian Groh, Dimitrov's coach, Marco Panichi, Djokovic's fitness coach, and Borna Coric, a Croatian tennis player.
The remaining 19 were negative, as confirmed by Marin Cilic and Sasha Zverev, who played both in Belgrade and in Zadar,  as well as by Novak's coach Goran Ivanisevic, while Djordje Djokovic, Novak's brother and director of Adria Tour, also tested negative.
Novak and Dimitrov were in contact on several occasions, because Adria Tour included several different activities. In Belgrade, it was football, conferences, of course, tennis, and finally going out to a club.
Nole hugged Dimitrov several times, was in contact with the microphone that Dimitrov used, the Bulgarian defended against him during a basketball game, and at one point in the club, Djokovic picked Grigor up to encourage him to dance.
Video:
Đoković nosio Dimitrova kroz klub u Beogradu
Dimitrov did not look ready on the court from the start of the Belgrade part of the tournament and after the first match in Zadar, he withdrew from further competition because he didn't feel well.
Later, it turned out that he tested positive for coronavirus, which he might have suspected,  because after the match with Borna he did not shake hands, but offered him his fist, as well as to the referee.
Many details soon emerged related to his suspicious behavior in Belgrade and Zadar, which leads to an interesting relationship and the American lobby that may be behind it all.
Video:
Djordje Djokovic: We just found out about Dmitrov, its hard for us, everyone will be tested
Djokovic's first statement after finding out he has coronavirus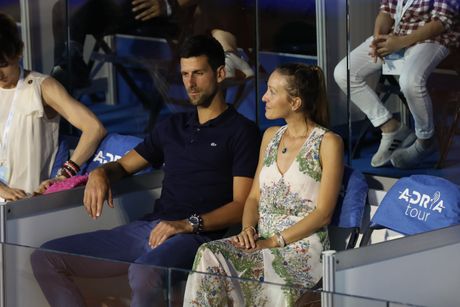 The world's number one tennis player has issued a statement after testing positive that said that immediately upon his arrival in Belgrade Novak was tested along with all members of the family and the team with whom he was in Belgrade and Zadar. He is not showing any symptoms.
"The moment we arrived in Belgrade we went to be tested. My result is positive, just as Jelena's, while the results of our children are negative," Novak said, and added:
"Everything we did in the past month, we did with a pure heart and sincere intentions. Our tournament meant to unite and share a message of solidarity and compassion throughout the region.
The Tour has been designed to help both established and up and coming tennis players from South-Eastern Europe to gain access to some competitive tennis while the various tours are on hold due to the COVID-19 situation.
It was all born with a philanthropic idea, to direct all raised funds towards people in need and it warmed my heart to see how everybody strongly responded to this.
We organized the tournament at the moment when the virus has weakened, believing that the conditions for hosting the Tour had been met.
Unfortunately, this virus is still present, and it is a new reality that we are still learning to cope and live with.
I am hoping things will ease with time so we can all resume lives the way they were.
I am extremely sorry for each individual case of infection. I hope that it will not complicate anyone's health situation and that everyone will be fine.
I will remain in self-isolation for the next 14 days, and repeat the test in five days," Novak Djokovic announced.
Take a look also at how Novak most likely contracted coronavirus during the tournament:
Video:
Is this when Novak was infected during his match against Dimitrov?
(M.LJ./Telegraf.rs)