Vucic on 4 key topics: "I'll ask for Community of Serb Municipalities in September in Brussels"
Only when they fulfill the only thing that is asked of them can we have some concrete paper, then we can continue the conversation - said the president of Serbia
President Aleksandar Vucic today presented plans and programs for Serbia's further development and future, and spoke about four key topics during his press conference - two political, the economic measures, and health.
In addition to the president of Serbia, Minister of Agriculture, Forestry and Water Management Branislav Nedimovic and Minister of Health Zlatibor Loncar were also present.
About Kosovo and dialogue in Brussels
The president recalled that talks are taking place in Brussels and that Serbia wanted those talks to be essential rather than formal, mostly about the economy and our relations.
"Pristina comes to these talks formally and only wants recognition, so I don't know why we are conducting these talks. For us, the news of an attempt to pass a law on protecting the so-called KLA is horrid, and I talked about it with Lajcak and pointed out that it was an introduction into a place where nobody in Kosovo and Metohija will be able to think differently, otherwise they will be arrested," he said and added that he would see how Brussels will react to that.
He said that the situation is not at all easy for Belgrade, because great powers are not giving up the position that the only solution to the Kosovo issue is mutual recognition, that America and Germany will not withdraw their recognition of so-called Kosovo and that they will look for ways to drag Serbia into that plan.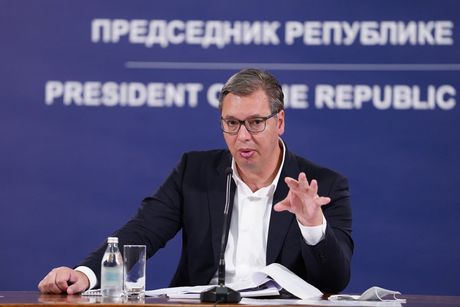 "I will represent Belgrade in Brussels in September, as the dialogue continues. I will ask for the formation of the Community of Serb Municipalities, only when we get a concrete answer, a paper and they (Pristina) fulfill the only thing what was asked of them, then we can talk," said the president of Serbia.
We marked Operation Storm as day of sorrow and grief
Commenting the anniversary of Croatia's Operation Storm, the president pointed out that Serbia held a commemorative gathering of sorrow and grief, while in Knin there was a victory day celebration, which was also attended by some Serbs.
"They made that decision themselves even before they essentially informed us, but their decision will not change the stance of Serbia and the Serb Republic (RS). Show me any Croatian media that said one decent word about what was happening in Raca (the Serbian commemoration), there is none. There were a lot of articles on their top portals that were directed against me, and it was all organized. There are media that turned a whole campaign against Serbs and Serbia. It's  unbelievable they should be so obsessed with Serbia," said Vucic, and added:
Video:

I didnt want to say anything about that one who attended the Storm celebration
"Unfortunately, there are also media in Serbia who think that they will be more with the 'in' crowd if they flatter the Zagreb bazaar. I have never, nor will I provide support for the act of glorifying and celebrating Operation Storm, that kind of thing is not to be celebrated. You will not be able to drag Serbia into a celebration of 'Storm'. That you want us to say that 'Storm' is not a crime, I will never say that. You can take my head off I won't say it. For me, it is the biggest ethnic cleansing on European soil," said Vucic.
Vucic called on everyone in Belgrade not to behave like Croats and added that we should never lynch anybody in the media.
"Don't be like them, don't look to Zagreb, we don't need to lynch anyone in the media, but we don't need to celebrate such ethnic cleansing either. I spoke with a father of children who died on Petrovacka Cesta, who said that if I hadn't remembered his two children, no one would have. I can't forget those children, we will try to help that family as much as necessary. I want the boy and the girl to be remembered, who were guilty only of being Serbs and of being in a refugee column, and there is no way I will celebrate something like that," said Vucic.
Serbian president also added that Serbia and Belgrade are showing the good will in normalization of relations with Croatia.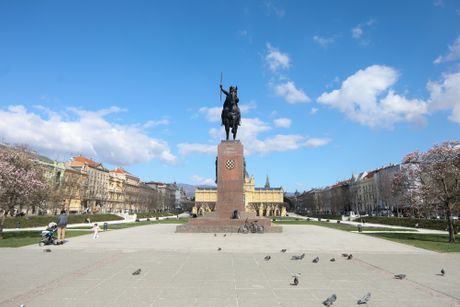 Epidemiological situation in Serbia much better than in previous weeks
"Today, we will try to address four topics, two of which are political, one concerns health, and another the economy," the president said at the beginning of his address.
He said that, when it comes to coronavirus, there is good news for the citizens of Serbia, since according to data that arrived this morning, significantly fewer patients are now hospitalized, which means that the epidemiological situation is better than in previous weeks.
"This morning, 3,215 people were hospitalized, which shows that the situation is more favorable than 15 days ago. Along with the construction of two Covid hospitals, the construction of a new hospital in Krusevac will start on Monday. It is by no means a time to relax, but to be even more responsible and serious in our approach to fighting the infection," said Vucic.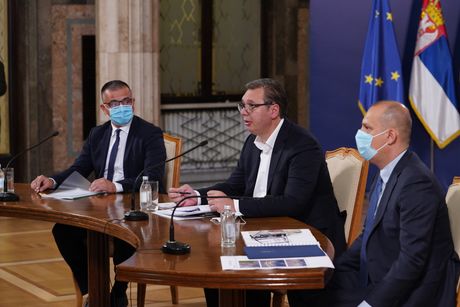 "The important news for you is that within ten days we will start a major renovation of hospitals in Vranje, Pirot, Kikinda and Cuprija," said the president and added that a huge amount of money is being invested and that works on the Clinic for Infectious Diseases in Belgrade continue.
"We will be the economic leader in the region"
The president also announced that payment of 60 percent of the minimum wage for all workers who receive it started this morning.
"The important news for all workers is that the payment of 60 percent of the minimum wage is starting this mornng - 155 euros or 18,000 dinars, and the total will be 1,100 euros per employee. That is a huge assistance from the state to every company and every worker. I am especially pleased that these measures have yielded good results," the president stressed.
Video:

The number of hospitalized Covid 19 patients has drastically decreased
(Telegraf.rs/Telegraf.co.uk)