This is the Serbian national football team's new away kit, inspired by Nikola Tesla
The leaders of the Football Federation of Serbia (FSS), in agreement with the kit sponsor, decided on a revolutionary move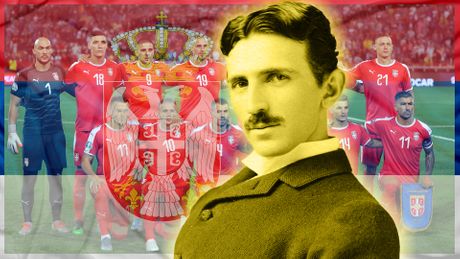 The Football Federation of Serbia has announced the final look of the national team's new away kit, inspired by the greatest scientist of all time, Serbian-American inventor Nikola Tesla.
This away kit is different and more revolutionary, inspired and created for the younger generations, as well as others who feel that way.
Also, there are certain FIFA rules that must be followed as well as certain philosophies and trends set by Puma as the FSS partner.
A video posted on the official Twitter account of the Football Association of Serbia showed the new away kit of the national team, which features the logo of the FSS and of the kit manufacturer, Puma, in fluorescent colors reminiscent of electrical current.
The kit is white with navy sleeves, and Serbian football players should wear it as early as in the beginning of September, in the League of Nations.
The Serbian national football team will play its first game on September 3 against Russia, and the next on September 6 against Turkey.
⚡ ɪɴꜱᴘɪʀᴇᴅ ʙʏ ɴɪᴋᴏʟᴀ ᴛᴇꜱʟᴀ 🇷🇸#Orlovi #NikolaTesla #Srbija#SrcemSvim #PUMA #FSS #PUMAFootball @PUMAFootball pic.twitter.com/nzqpCt6fxZ

— Fudbalski savez Srbije | FA of Serbia (@FSSrbije) August 31, 2020
The design of the kit was announced earlier, and the fans had an avalanche of comments about the look, mostly negative, until the FSS revealed that Tesla was the inspiration.
Now everybody will think Serbia are Scotland.

Not even Mitrovic will look scary in their new away kit. pic.twitter.com/Gdd2oCPS4M

— Sam Street (@samstreetwrites) February 25, 2020
Video:
Due to this slogan of Partizan FC fans, the match was delayed by 11 minutes
(Telegraf.rs)