"Situation is alarming. Lana's getting worse. We're sad and there's nothing we can do but hope"
Lana Jovanovic needs another 750,000 dollars in order for the medicine Zolgensma to be purchased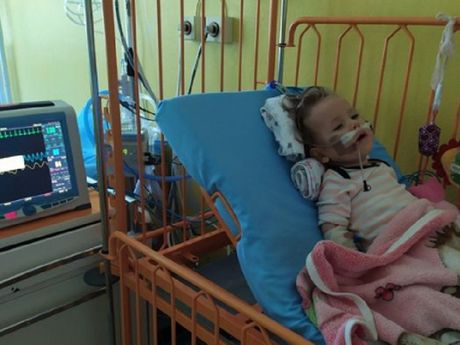 The parents of little Lana Jovanovic, just like the parents of Sofija Markuljevic, are collecting money so that their child can receive the same medicine, Zolgensma, which costs 2.1 million dollars.
However, she doesn't have too much time, as her family posted on the Facebook profile "Za Laninu zivotnu bitku" ("For Lana's life battle") her condition is getting worse, it's actually alarming. As stated, the ten-month-old girl received another device for use, and the family sincerely believes that it will help her, because her lungs are weak and she is breathing with more and more difficulty.
Lana needs another $750,000 to reach the full amount.
Lana suffers from the most severe form of spinal muscular atrophy type 1 (SMA), just like little Sofija Markuljevic, for whom the money was raised and who is currently receiving treated in America. SMA is a rare, progressive and deadly neuro-muscular disease, which leads to the loss of basic vital functions.
Lana is among 34 patients in Serbia who receive the drug Spinraza, the therapy available at the expense of the state since 2018. Spinraza slows down the disease and significantly helps, but Lana's parents are looking with great hope to new gene therapy, recently registered in Europe. It costs $2.1 million. This is the medicine Zolgensma.
This smiling baby received the "ten" grade at birth. Until the second month, nothing indicated that she was different from her peers. Her parents noticed that she did not move her legs, that they were poorly mobile, and when they put her on her stomach, she could not lift her head. Those were the first signs.
Visits to the doctor, examinations and finally a diagnosis followed. The therapy she started receiving as soon two weeks later and the obligatory exercises five times a day are responsible for the fact that Lana can still swallow and breathe on her own.
Lana we can help in the following ways:
By sending an SMS: Enter 808 and send an SMS to 3030
By sending an SMS from Switzerland: Enter human808 and send an SMS to 455
By payment to the dinar account: 160-6000000069907-42
By payment to foreign currency account: 160600000006991130
IBAN: RS35160600000006991130
SWIFT/BIC: DBDBRSBG
By payment using cards via the link: E-donate
By payment from your PayPal account via the link: PayPal
And through the Pomoc za Lanu (Help for Lana) site.
Video:
Baby Lana, who suffers from spinal muscular atrophy, does morning exercises every day
(Telegraf.rs)
Pošaljite nam Vaše snimke, fotografije i priče na broj telefona +381 64 8939257 (WhatsApp / Viber / Telegram).