Covid measures relaxed: Cafes, restaurants to stay open longer, no sports and music gatherings
We currently have only seven infections per 100,000 people
Members of the Crisis HQ for the fight against coronavirus met this morning at 8:30 am in the Palace of Serbia and reviewed the current epidemiological situation. Profesor Dr. Darija Kisic Tepavcevic said after the meeting ended that restaurants and cafes will be allowed to stay open longer, but that (attendance at) sporting and cultural events will not be allowed.
"Even though we have an extremely stable situation in our country, we are recording several dozen infected people a day, and we have one deceased person per day. If we compare ourselves to surrounding countries in Europe and the world, at this point we have the best epidemiological situation. If we look back at the previous two weeks, in our country the cumulative incidence, which measures the risk of the disease, was 14 per 100,000 inhabitants, while in many countries it was over 500. During the previous week, this frequency was 7 per 100,000, so, with the exception of Greenland and the Vatican, where no cases have been reported, we are the country in Europe with the lowest incidence rate. It has been a hundred times higher in Montenegro, ten times higher in Croatia."
"That's not by chance. The Crisis HQ made decisions and recommendations, this is the result of the conscientiousness of the citizens who have been respecting all preventive measures. I also note that there are countries, such as the Czech Republic and Israel, where things changed within a week or two, and that shows how precarious the situation is and tells us that we should do our best to maintain this situation," said Professor Dr. Darija Kisic and added that we should be more conscientious and more responsible than ever.
She pointed out that the situation in schools is very favorable.
"In these four weeks, we've had only one case of local transmission in the school environment. That's very much so favorable. It's very important that classes for (university) students are beginning now, so we appeal to the academic community and students to act responsibly and conscientiously so that this virus cannot find its host, its reservoir. A good example is China, where there are have been no cases of local transmission for 40 days. This is an absolute example for us that the virus does not have to be transmitted in an environment, if we act responsibly and conscientiously, and we have shown that we are like that."
"As part of this situation, we considered what further possibilities are. Bearing in mind that we are moving towards colder weather, the measure we have adopted is to extend opening hours of cafes and restaurants indoors until 11 pm, while respecting all prescribed measures. We will monitor this measure, and if the slightest increase in the frequency of the disease is noticed, this measure will be corrected. The total number of people is limited by the square footage of a room. The distance between patrons must be 1.5 meters. This does not apply to family members, as already prescribed through previous measures," she explained and added that each of us should individually assess the risk of going to a restaurant.
She also said that although the situation is favorable, no sports or cultural events are allowed.
"At this moment, we think that we should not allow any such event yet. These are the maximum precautionary measures, because we invested a lot of effort to achieve such an epidemiological situation, and we should not make it worse now," said Professor Dr. Darija Kisic Tepavcevic.
Today, the Crisis HQ was supposed to consider the possibility of reopening the Belgrade Fair, but that will obviously wait for another meeting.
The epidemiological situation in Serbia is stable but uncertain, because we still have instances of infection. When compared to others around us, our situation is the most favorable, and we are in a far better position than others.
Professor Dr. Branislav Tiodorovic told RTS before the session that the fact that Slovenia has lifted the ramp for us speaks volumes about how favorable the situation is in our country.
"We really have a situation that can be assessed as stable. Proof of that is that Slovenia has lifted the ramp for our citizens. I must say that the situation, however, is uncertain, considering that the virus is still here. I draw your attention to that because everything we will decide today regarding working conditions, extension of opening hours for some facilities... everything will be based on making a decision carefully. I say that because there have been a lot of countries like the Czech Republic, Germany, Iceland, which had an extremely good situation only to see it deteriorate with the easing of measures, so we have to learn from other people's experiences," said Professor Tiodorovic.
He said that in Serbia we have seven cases per 100,000 inhabitants, and added that every decision that is made will be a reward for the citizens who respected the measures.
"We will continue to have basic respect for all three measures - wearing masks indoors, keeping a distance of 2 meters, and disinfection of both hands and places where we work and stay. In fact, what they have endured for so many months, is the merit of a large part of the population, and this will be a kind of reward," he said.
Asked whether gatherings of a larger number of people would be allowed in enclosed spaces, he said that Indian summer is expected in October, and that this is good as it suggests people will be spending time outdoors.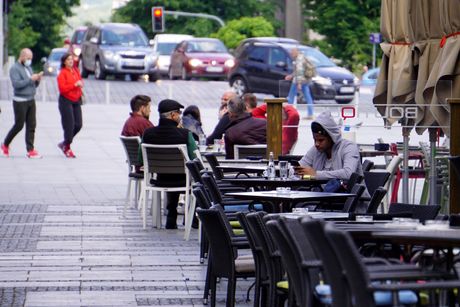 There have been announcements that the Belgrade Marathon would be held, and Tiodorovic said it would be very hard to keep the distance during that event, and that it would be very important to organize everything properly in order to avoid increased risk.
Asked whether it was justified to ease measures at the time when seasonal flu is coming, he said that data from the southern hemisphere shows that there is no major infection there, while we benefit from the fact that vaccination against the flu virus will start in our country soon.
In Serbia, coronavirus has been confirmed in 33,384 people out of a total of 1,115,095 of those who have been tested so far. Covid 19 has taken 747 lives.
Kisic Tepavcevic: Out of all the tourists who returned to Serbia, only 45 became ill
(Telegraf.rs)
Pošaljite nam Vaše snimke, fotografije i priče na broj telefona +381 64 8939257 (WhatsApp / Viber / Telegram).