List of 100 most powerful people in Serbian media: Telegraf.rs director is among them
"Only those who understand the environment in which they work and who are able to respond to all these challenges will survive," reads the explanation of this year's list of the most powerful persons in the media today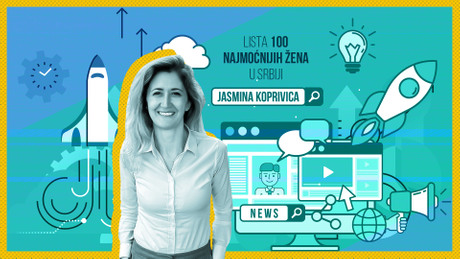 The traditional list of the hierarchy of power in Serbia in various fields of politics, economy, media, show business, sports, arts, this year includes Jasmina Koprivica, the general director of the Telegraf.rs portal.
The complete list of the 100 most powerful people in the Serbian media was revealed as part of the traditional series published by the daily Blic.
Great competition, the offensive of new technologies, an unstable political and economic environment and an increasingly diffuse and demanding audience are the main determinants of the media space in Serbia, where only those who understand the environment in which they work and are able to meet all these challenges can survive, stated the explanation.
Jasmina Koprivica has been in journalism for more than 20 years, and has been dealing with digital media since 2005. She is a member of IAB Serbia, while the Telegraf.rs portal, which she has been running since last year, is among the three most visited portals in Serbia.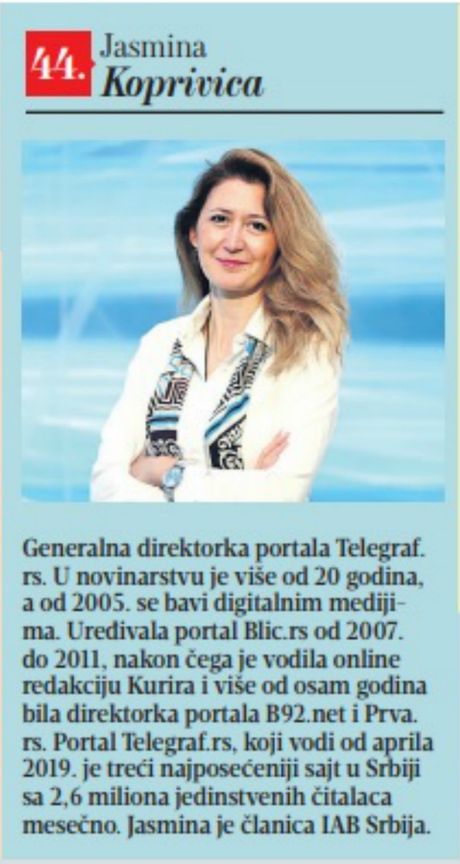 Veselin Jevrosimovic, the owner of Comtrade Group, is also on the list of the 100 most powerful people.
Koprivica is also on this year's list of the 100 most powerful women in Serbia.
Video:
Ten atypical occupations for women: From truck drivers to detectives
(Telegraf Biznis)
Telegraf.rs zadržava sva prava nad sadržajem. Za preuzimanje sadržaja pogledajte uputstva na stranici Uslovi korišćenja.