Shocking footage of shootout in Novi Pazar: Bullets flying in crowded street, woman gets wounded
The perpetrators in this shooting were on the run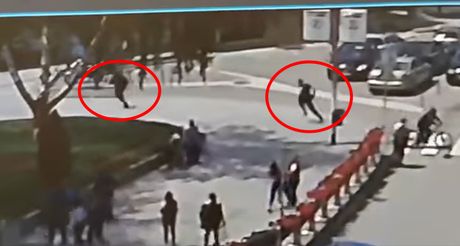 After the news that a random passer-by got wounded in a firefight that took place around noon in the center of Novi Pazar, a video of the shooting incident appeared.
The shocking scene of the shooting was filmed in a street full of passers-by, so it's very lucky that there hadn't been any no more victims.
As people are crossing a pedestrian crossing, a nervous looking man is seen approaching it from one side, while another runs up from the other and starts chasing after him and shooting.
Due to the quality, not all the details can be seen in the video, but you can see the chaotic chase that ended with shots from a firearm.
The participants in this clash ran away, but were later apprehended.
The victim was transported to the General Hospital in Novi Pazar, and according to initial information, she was wounded in the leg.
Two bullets hit woman, clash breaks out over earlier quarrel, culprits arrested
Members of the Ministry of Internal Affairs of the Police Administration in Novi Pazar have arrested two people from that city, due to a shooting incident that took place in front of the Faculty of Islamic Studies, indeksonline.rs has learned.
According to unofficial information, M.K. and M.I., both from Novi Pazar, have been arrested.
It is suspected that M.K. attacked M I. in the center of the town with an ax due to an earlier quarrel. M.I. then pulled out a gun and fired about five shots, two of which hit a woman, a passer-by.
(Telegraf.rs)