RK Partizan director: Youth player has been arrested, we deal with sports, authorities do their job
The young man was arrested in the sports hall, after members of the Gendarmerie and the UKP knocked him down on the floor and handcuffed him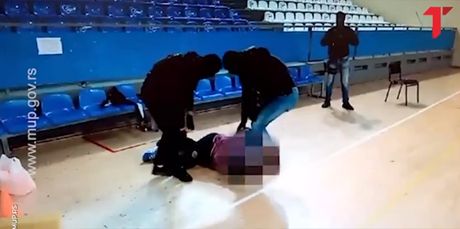 After the arrest of a suspected member of Belivuk's criminal clan in the sports hall used by RK Partizan (Handball Club Partizan) in Belgrade, the director of the club, Aleksandar Blagojevic, reacted to the news.
He told the Telegraf.rs portal that the club is familiar with this arrest and that it concerns a player from the youth categories.
The young man was arrested in the hall, after members of the Gendarmerie and the UKP knocked him down on the floor and handcuffed him, and he was wearing the RK Partizan jersey at the time.
"We are a sports club. We deal with sports, and we have more than 500 players in the handball school. I heard about the arrest and he is a player who has been in our youth categories for ten years," Blagojevic told us.
When asked what the initials of the arrested player are, Blagojevic answered that this is something for the state authorities, but confirmed that it was a person who was in the hall for "sporting reasons," that is, he was training.
In a coordinated action of the police, the Service for the Fight against Organized Crime, the Police Administration for the City of Belgrade, the Security Information Agency and the Prosecutor's Office for Organized Crime, S.M. (40), A.D. (24), M.L.S. (21), M.S., V.DJ. (19) and A.S. (22) have all been arrested on suspicion that they, as members of an organized criminal group, committed criminal acts of association for the purpose of commission of criminal acts, and kidnapping.
The Ministry of Interior announced this morning that six more persons suspected of belonging to the criminal group whose leaders are Veljko Belivuk and Marko Miljkovic have been arrested.
During the search of the suspects' apartments, officers found and seized two pistols, an air rifle, about 600 bullets, a small amount of narcotics, as well as several mobile phones, computers and cash, it has been announced.
The suspects were detained for up to 48 hours and will be brought before the Prosecutor's Office for Organized Crime along with criminal complaints.
(Telegraf.rs)
Pošaljite nam Vaše snimke, fotografije i priče na broj telefona +381 64 8939257 (WhatsApp / Viber / Telegram).