Nebojsa Stefanovic responds to Dijana Hrkalovic
Stefanovic also said that Hrkalovic went on vacation in Israel with one of the members of the Kavac clan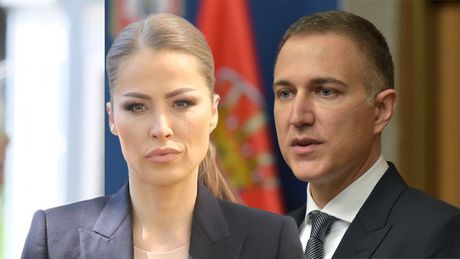 Defense Minister Nebojsa Stefanovic said yesterday that Dijana Hrkalovic has told a torrent of lies about him, adding that he is neither a criminal nor did he want his name to be dragged through the mud, and that he does not want to be linked to criminal clans and criminals.
Hrkalovic previously accused Stefanovic, who is a former interior minister, of "personally protecting" the clan of Veljko Belivuk and Marko Miljkovic.
"I am neither a criminal nor have I committed any crime, and in particular I am not someone who is a conspirator against President Vucic, a man I have supported in politics for more than 20 years and I follow the policy that makes Serbia a better place to live," Stefanovic said in his response to the accusations leveled against him by Dijana Hrkalovic.
Stefanovic claims that "the crucial thing in the procedure against Hrkalovic is the subject of not delivering messages to the prosecutor after Veljko Belivuk's phone was examined."
"In those messages, he corresponded with a high-ranking official who was in an intimate relationship with Dijana Hrkalovic at the time," said Stefanovic and added that Hrkalovic had an interest in those messages not coming to light.
Stefanovic also claimed that Hrkalovic was on vacation in Israel with one of the members of the Kavac clan, who is also the leader of a Partizan supporters group from Karaburma, and with whom, he says, she had very close relations.
"That man joined her on vacation, about which there is enough evidence and witnesses. Although I did not have any information at the time that she had committed any crime, I could not allow such a person to continue working in the Interior Ministry (MUP) and she was subsequently forced to resign and leave the MUP," said Stefanovic.
Stefanovic also claims that he never had or used a Sky phone.
In the video material, which was delivered to the media from his office, Stefanovic also strongly attacked his party colleague, lawyer Vladimir Djukanovic, who is Dijana Hrkalovic's defense attorney. Stefanovic said that Djukanovic is one of those who orchestrated the campaign against those who oppose his business interests.
Video:
Dijana Hrkalovic left the court smiling after she was released
(Telegraf.rs)
Telegraf.rs zadržava sva prava nad sadržajem. Za preuzimanje sadržaja pogledajte uputstva na stranici Uslovi korišćenja.