"Switzerland is a gift from God": Vladimir Stojkovic reacts with a strong message for Serbia's team
The former Serbian football team ("Orlovi" - "Eagles") goalkeeper played the match against Switzerland four years ago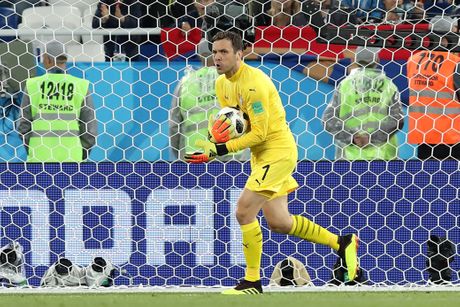 This is a a gift from God, because if someone made us an offer before the World Cup, that a victory against Switzerland would send us to the knockout stage, we would all have accepted it, says the former first goalkeeper of the Serbian football team, Vladimir Stojkovic.
Four years ago, Stojkovic was an actor in the match against the Swiss during the World Cup in Russia, and now he expects the "rematch" in Qatar with great optimism, and is confident of victory.
"My message to the boys is to look at that game like any other. They must not think about what happened last time, that line must not be crossed," Stojkovic told Tanjug.
Stojkovic is the goalkeeper with the most appearances in the history of the national team, a total of 84, and was a member of that team at three World Cups - in Germany in 2006, South Africa in 2010, and Russia in 2018.
"If the guys play as they know how to, with a calm head like in the qualifiers, I'm sure we will easily win," said the 39-year-old former goalkeeper of Red Star and Partizan, who is now bringing his career to an end in Saudi Arabia.
According to him, he is sure that "the information published by certain media will only motivate the team."
"I am convinced that these stupid things that come out will empower them to show even greater unity and that they will be the best when most needed," stressed Stojkovic.
The match between Serbia and Switzerland will be played on Friday evening, starting at 8 pm, Serbian time.
Video:
Poll: Who will the Croatians support today, Serbia or Switzerland?
(Telegraf.rs)
Pošaljite nam Vaše snimke, fotografije i priče na broj telefona +381 64 8939257 (WhatsApp / Viber / Telegram).