Vreme čitanja: oko 1 min.
KFOR removing barbed wire in Zvecan: What does it mean?
Vreme čitanja: oko 1 min.
KFOR is removing barbed wire they had used in Zvecan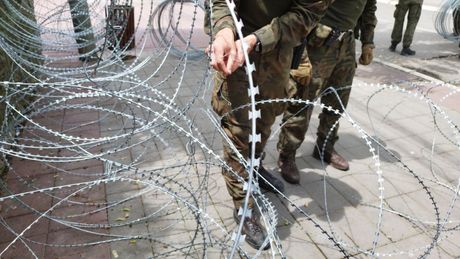 KFOR is removing the barbed wire as a sign of deescalation of the situation in Zvecan, Telegraf.rs has learned.
"This confirms the fact, which has been pointed out to since the beginning, that the Serbs and KFOR do not have a problem on the ground, but that the problem is Kurti's special (police) forces," the Office for Kosovo and Metohija said.
Serbs have been protesting in front of municipal buildings in Zvecan, Leposavic and Zubin Potok for the eight days now, demanding that the police leave the premises which they forcibly entered in order to bring in new, Albanian mayors.
Serbs from the north of Kosovo and Metohija demand that the police withdraw from the municipal buildings where they are currently located, that the Albanian mayors do not enter those buildings, and that Rados Petrovic and Dusan Brankovic, who were allegedly arrested for attacking KFOR soldiers, be released.
Video footage has since appeared that shows they were actually arrested before the start of the clashes last week.
(Telegraf.rs)
Telegraf.rs zadržava sva prava nad sadržajem. Za preuzimanje sadržaja pogledajte uputstva na stranici Uslovi korišćenja.