"Trump's advisor will not come to Belgrade": Vucic expects difficult fall in Kosovo
The president spoke about current topics from the country and the region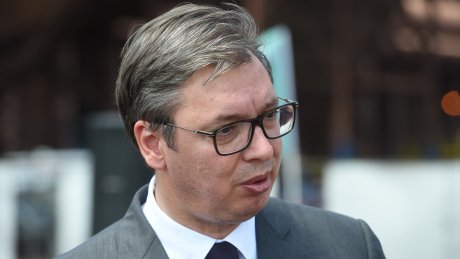 Foto: Tanjug/Dragan Kujundžić
President of Serbia Aleksandar Vucic spoke during the morning program on TV Prva about Kosovo and Metohija, the investment plan, the dialogue between the authorities and the opposition, as well as the "eavesdropping" affair and relations in the region.
ARRIVAL OF NEW AMBASSADORS PROVES THEY EXPECT IMPORTANT THINGS
The president of Serbia assessed that the change of ambassadors representing world powers in Belgrade is taking place because these countries are surely "expecting important things."
Speaking about the fact that all five permanent members of the UN Security Council are sending new ambassadors to Belgrade - when asked whether it means they want to speed up the resolution of the Kosovo issue - Vucic joked that they "certainly did not come to check the climate in Serbia, but because they expect important things."
He especially praised the outgoing French ambassador Frederic Mondoloni, saying that he was the best French ambassador to Serbia.
"At times I would have strongly-worded and difficult conversations with these people. I never give in to ambassadors, but when they do good things, I say so," stressed Vucic.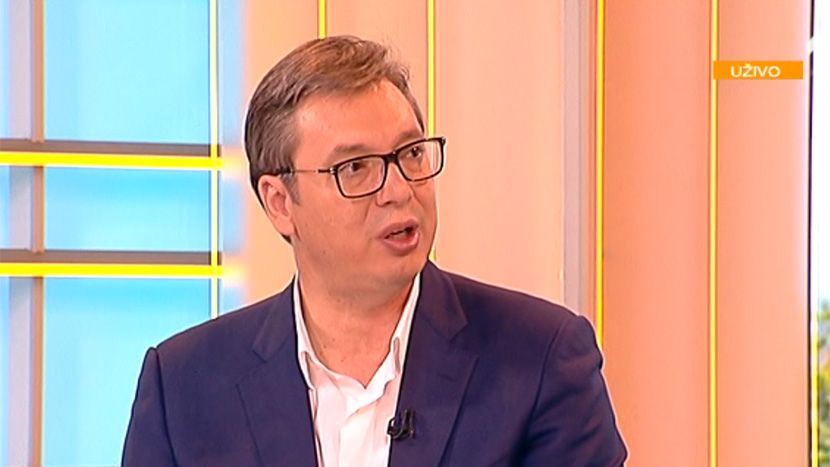 In this regard, he pointed out that US Ambassador Kyle Scott was an unpopular figure for many in Serbia, but underlined that he would never forget Scott's engagement around the arrival of NCR, which recruits and trains our IT experts, and the fact that when everyone was against the Belgrade Waterfront project, he had the courage to say that he supported it.
Today, Vucic added, it's easy to support it - because 70 percent of Belgrade's citizens support Belgrade Waterfront, but at the time of a fierce anti-campaign, few people did.
He also pointed out that Russia has sent to Belgrade one of its most powerful ambassadors, an exceptional diplomat. Vucic said that if one looks at the situation and relations in the world, there are many "centripetal forces."
He cited the problem of India and Pakistan, where many big powers are involved, but also pointed to relations between Turkey and other regional powers.
"The situation reminds me very much of a breakdown in the balance of power and the establishment of a big concept. I think the situation is such that it will be increasingly difficult for us to safeguard peace. Serbia has lost many children in the past and we must pursue a wise and serious policy to protect national interests," he stressed and recalled that Serbia has strengthened itself militarily in order to show that we will have the strength, not to endanger anyone, but to oppose everyone who would try to endanger us.
"Six years ago I found at the Batajnica Airport that only one MiG-21 could fly, and Croatia is now celebrating Operation Storm with two MiG-21s. I would not allow MiG-21s to fly nowadays, they're that bad. We have 14 MiG-29s today, airplanes that are better by two classes," he said.
ON ELECTIONS IN KOSOVO AND METOHIJA
The president of Serbia says it's interesting that Haradinaj and Thaci are good for the "1 in 5 million" (opposition movement) - but find "Vucic's (supporters) here in Serbia" no good - so they will participate in elections there with enthusiasm, "and I guess there's less democracy here than in Pristina."
Asked if he expected "the temperature to be raised" since there will be elections in Kosovo, he said there are several aspects that are difficult for us.
"It's the life of ordinary people. The atmosphere is heated among them. They have four political parties and all have about 20 percent, and the fifth force is the Serb List, which Albanians and a part of the international community will try to bring down," said the president of Serbia. "Its interesting that Haradinaj and Thaci are good for the '1 in 5 million' (movement) - but find Vucic's (supporters) here in Serbia no good," he said.
"So they will participate in elections there with enthusiasm, and I guess there's less democracy here than with Thaci and Haradinaj," he said, but added that people of Kosovo know them well, and people cannot be convinced to vote against themselves and their interests.
"And so they will fare. I expect a convincing victory for the Serb List in Serb areas," he says. When asked if the Serb List will once again be the kingmaker (when it comes to forming a government in Pristina), Vucic replied that this can't be known in advance, and that Albanians will form coalitions against each other, and against Serbs.
ON SECURITY SITUATION IN KOSOVO AND METOHIJA
Speaking about the possibility of terrorist attacks in Kosovo and the B13 extremist group, Vucic made it clear that he would not allow such provocations.
"I have no evidence that Thaci is preparing a 'bloody fall' in Kosovo, there may be some incidents and attacks, but there will be no killing of Serbs in Kosovo. Certainly a difficult fall awaits us, mostly because you have no one to talk to in Pristina. Secondly, there's a problem with delivering goods to our people," the president said, speaking about the security situation.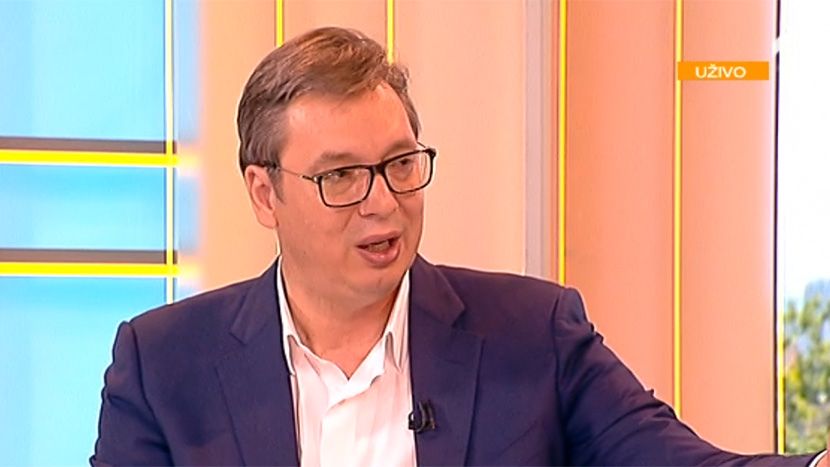 When it comes to finding a solution to the "Kosovo problem" Vucic said that many have criticized his proposal - so now he is waiting for them to tell him what their plan is.
ON THE BAN ON ENTRY TO KOSOVO AND METOHIJA WITH SERBIAN PASSPORTS
He described as nonsense the decision by the Pristina authorities not to allow citizens with a Serbian passport to enter Kosovo.
Vucic said that Pristina politicians are competing with each other when it comes to the tax (imposed on goods from Serbia) but also on "the most stupid issues" such as documents. "It's clear that the Serbian side negotiated that travel is possible with ID cards, but of course you have the right to travel with a passport as well. He who has more is also entitled to less," he explained, adding that such decisions are nonsense coming from those who act like young children, who do not have a state, and are trying to create one.
ON TRUMP ADVISOR'S VISIT
Vucic said that US President Donald Trump's advisor, John Bolton, would not visit Belgrade and Pristina, as the media reported.
"I don't think he'll come. He was considering visiting Belgrade and Pristina, but because of the elections, he has no one to talk to in Pristina," the president aid, adding that Bolton is a not a time-wasting man, and that he has many obligations.
Asked if Bolton would not come here until the tax has been abolished by Pristina, Vucic said that the US administration was certainly in favor of abolishing it, and that he was grateful for that.
"But I don't think that's the only reason. The question is what could he gained by going to Pristina. Who would he talk to in Pristina, whom can he find now as an adequate interlocutor," Vucic said, adding that he cannot speak on Bolton's behalf - but that this was a logical analysis.
(Telegraf.rs)