Pig-roasting, pepper-grilling, starting fires with barbecues: Bizarre problems of Balkan folk abroad
Some face high penalties, while others go unpunished. There are also situations that are unimaginable in some European countries, so local authorities don't know how to punish workers from the Balkans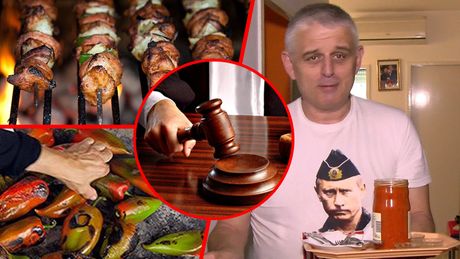 Foto: Foter/Flickr/SalFalko, Telegraf, Pixabay
It's not uncommon for Serbian citizens, as well as other people from the Balkans working abroad to be punished for committing certain acts that are quite normal in the countries here, and for which few are fined. It's also common knowledge that people from the Balkans love to barbecue, cook in couldrons, roast pigs and lambs on a spit and eat well in good company.
In many European countries, and even on other continents, many of these things are unthinkable. Here are some situations when people from the Balkans faced consequences, mostly fines.
GORAN MADE AJVAR IN THE YARD OF HIS HOUSE IN CANADA, FACED $50,000 FINE
Peppers, tomatoes, garlic, oil, vinegar, salt. The standard recipe for the traditional Serbian ajvar. But in the case of Goran Rosic, a Serb man living in Canada, one of the main ingredients of this condiment became a $50,000 fine. He received it for grilling peppers in the backyard of his home in the Canadian town of Fort Erie two years ago. Rosic, probably the only Serb ever to be taken to court for grilling peppers in his own yard, has not been found guilty or punished even after almost a year into the proceedings against him. Moreover, Rosic managed to turn the whole case in his favor.
The news of pepper grilling and ajvar cooking the traditional Serbian way found its way into the local media, where it was described as "incredible," "bizarre," "unimaginable"... A neighbor reported Rosic, firefighters rushed to his yard, and soon a lawsuit followed. He was facing a $50,000 fine - one for him and one for his wife, or a year in prison in case they failed to pay.
SERBIAN INAT TAKES OVER
Goran claimed that he would not pay a single cent. He remained consistent in his position, and in the end they even had to remove him from court because, as Rosic told BKTVNews, one of the firefighters admitted to having planted a photo of a barbecue in his case file. "Their only option was to come up with something against me. I immediately said in the courtroom, 'Mr. Judge, you have a clear situation, you see this photo is fake, I demand that the trial against me be dismissed immediately'," Rosic says, acknowledging that the judge's response surprised him, but did not discourage him.
"He told me that if he caught me lying, he would punish me separately for grilling roasting peppers, and also for misleading the court," he explained.
In the end, the judge decided not to send Goran to jail, but did fine him $305 and also his wife in the same amount. However, Rosic did not surrender so easily. He immediately appealed, and on March 13 last year his case was brought to a higher court.
"There, we were met with a lawyer of the municipality where I live. He told the judge that I was in the municipality asking for $5 million in damages for being wrongfully punished," Goran said, noting that this was another in a series of heinous lies in the process.
"It's not true that I asked for that sum. I asked for $15 million! Gentlemen, we'll take this all he way, I told them that," the Serb concluded.
PIG ROASTING IN CHICAGO PARK IMMEDIATELY BRINGS OVER POLICE OFFICER - OF SERB DESCENT
Despite Serbs in America being tens of thousands of kilometers away from their native land, they cannot give up their customs however strange they may be in their new environment. One such ritual is a pig roasted on a spit for the Christmas table. Those who live in private homes take the opportunity to roast pigs in their garage, though they usually face problems with their American neighbors, especially if they see or smell smoke.
However, during this year's Christmas celebration, one Serb decided to use one of Chicago's parks to light a fire as Serb customs dictate, put a pig on a spit, turn on the music, and enjoy himself.
The passers-by were incredulous, and the police quickly showed up, with flashing lights on their car. A police officer who got out of the vehicle asked the man what he was doing and if he was in his right mind - and he shrugged and gave up on roasting to avoid a high penalty, Srpska Info website reported at the time.
Only then the policewoman spoke to him in fluent Serbian, revealing that her parents, who had moved to Chicago from Vojnic on Mt. Kordun (in Bosnia), are also roasting pigs for Christmas. She said she would stop by on her next patrol for a bite and recommended that when the job was done, the man should make sure that the fire was completely extinguished! Thus, these Serbs, immigrants to America, found a way to outsmart their hosts on Christmas.
BOSANIANS ROAST LAMBS IN THE MIDDLE OF BERLIN
Last year, on the eve of the feast of Djurdjevdan, a German police patrol received a report that a group of people were roasting lambs in a park.
During the intervention, they found a group of cheery Bosnian citizens roasting 12 animals.
The spits were plugged into car batteries, local media quoted the police at the time.
"Nobody wanted to take responsibility," said the police, who called in firefighters.
"Nearly 150 people were lying on the grass, children running around the hot embers. And beyond that - the lambs. Twelve of them. They spun on spits above the charcoal in the sun. Everything was battery-powered," the police said on Facebook.
The police added that barbecuing was allowed in the park but not in the way that the main actors in the story did it, because they risked starting a fire with their irresponsible behavior.
BOSANIAN BARBECUES ON HIS BALCONY, SETS BUILDING ON FIRE
The most recent is a bizarre case that occurred in the Austrian city of Salzburg at the beginning of July this year, when a 47-year-old citizen of Bosnia and Herzegovina caused a fire while barbecuing.
He did this on the balcony of his apartment on the sixth floor of a building where he used a flammable paste to produce the fire. The paste leaked to the balcony on the floor below and caused a fire on the awning. The fire then spread unstoppably to the lower floors, the final result being four fully burned awnings.
Fortunately no one was injured in this incident, and no significant damage to the building's facade was done either - other than the awnings on fire.
MAN DRIVES BADNJAK AROUND ON A RED FERRARI, GOES UNPUNISHED?
Cutting and bringing an oak branch (badnjak) to the house for Christmas is an obligatory tradition for most Serbs. Many of our people don't renounce the good old customs when they're abroad, and the most original one was certainly a Serb living in Switzerland.
The man was filmed at the beginning of the year driving around with a badnjak attached to the top of his red Ferrari.
The branch was tied to the top of the luxury car, and as the vehicle approached the camera, the most emotional shot occured - a girl in the passenger seat, waving through the window, smiling and happy.
The car then turned to a parking lot. This caused delight among many Serbs around the world, but there was no information on whether the driver was punished for cutting down trees in a country like Switzerland.
MONTENEGRO MAN FISHING WITH DYNAMITE IN NORWAY, SERB MAN BUILDING A HOUSE WITHOUT PERMITS IN SWEDEN - BOTH END UP IN PSYCHIATIRIC HOSPITALS?
According to testimonies of our workers abroad, there have been many more bizarre situations involving Balkans folk.
According to unconfirmed information, the Norwegian authorities could not file a criminal complaint against a Montenegrin national who tried to fish using dynamite, as such a case had never happened in that country nor is there a statute for such a violation. A politician from Montenegro, the leader of the Movement for Change Nebojsa Medojevic, tweeted about this once.
Kada je jedan Crnogorac pokusao da lovi ribu dinamitom u Norveskoj, odmah je uhapsen, ali tuzilac nije podnio krivicnu projavu. U Norveskoj jendostavno nikad niko nije bacio dimamit u vodu da lovi ribe. Nije propisano kao krivicno djelo. Odveden je na psihijatriju na ispitivanja pic.twitter.com/F28CuQ6vZV

— Nebojsa Medojevic (@NebojsaMedojevi) 1 May 2018
When the Montenegrin tried to fish with dynamite in Norway he was immediately arrested but the prosecutor did not file a criminal complaint. In Norway, of course, no one has ever thrown dynamite into the water to fish. It is not prescribed as a criminal offense. He was taken to a psychiatric hospital for evaluation.
There are also stories of a Serbian citizen who pulled construction material into his yard and began building a structure without securing any permits first. When his neighbors reported him, the police came and brought him before the investigating authorities.
However, he received no punishment for the act, since something of the kind is unthinkable in Scandinavian countries. Both he and the fisherman from Montenegro, allegedly had to undergo psychiatric examinations.
(Telegraf.rs)