Problems ahead of quarterfinal vs Argentina: Coach's extraordinary measure due to poor organization!
A new trip from Wuhan to Donguan has disrupted our team, who were unable to train due to having to travel by plane and bus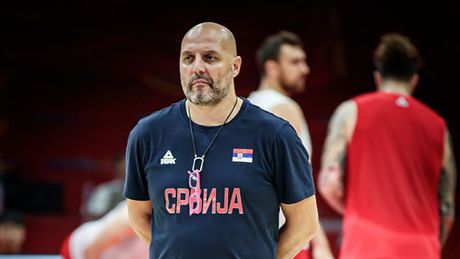 Foto: fiba.basketball
Serbian basketball players will not have their training session the day before the match against Argentina! The reason for this is a new difficult trip that the Eagles had to take from Wuhan to Donguan, where they will play against Argentina in the Basketball World Cup quarterfinals starting at 1 pm on Tuesday.
Due to the exhausting trip, head coach Sasa Djordjevic decided to cancel the training, because a match will played in the arena at the time that our team was supposed to train, and they didn't want to train in the auxiliary facility, which was offered to them.
Most likely the Eagles will train on match day in the morning, local time.
Recently, Chinese journalists also asked Djordjevic why his team didn't train before the match against Puerto Rico, and he explained at the time how difficult it was to do that after a difficult trip.
Add to that that this time he was offered an auxiliary court, not the one where the match should be played - and it's clear why Djordjevic made this decision.
Watch the video taken with the ultra-wide angle camera using Motorola One Action. It's Djordjevic's statement about why Boban Marjanovic did not play against Spain.
Serbia suffered its first defeat at the World Cup on Sunday. Spain was better, winning the game 81-69, which sent our team to Argentina in the quarterfinals, as well as most likely to the United States in the semifinals.
(Telegraf's reporter in China, Dragutin Stojmenovic)