Explosion of dangerous 500-kilo bombs caught by drone in Sarajevo (VIDEO)
These were aerial bombs dropped during the Second World War, probably in November 1944, during the Allied bombing of Sarajevo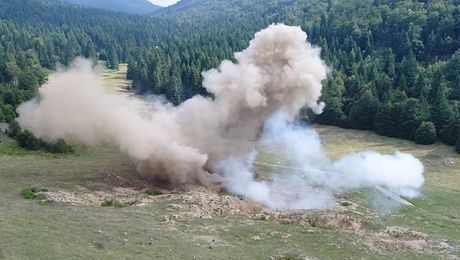 Members of the Federal Civil Defense Administration in Bosnia and Herzegovina destroyed the bombs today in separate controlled explosions. The bombs were found at the construction site of a new shopping mall in Sarajevo's Alipasino Polje neighborhood.
The destruction of the bombs at the Bjelasnica range went according to an operational plan previously drafted by the Civil Defense, spokeswoman Majda Kovac said.
Bombs dating back to the Second World War were found a few days ago during works on the construction site near the RTV House, RTRS reports citing Srna.
The Federal Civil Defense Administration earlier urged citizens who live in the area or happen to be there during this operation to follow the instructions given by authorized police officers and members of the Civil Defense, to avoid endangering themselves or the safety of the entire operation.
These were aerial bombs dropped during the Second World War, probably in November 1944, during the Allied bombing of Sarajevo.
Members of the service filmed the whole operation using two drones, which also monitored the security situation near the range, making sure that nobody strayed into the area by accident.
Take a look at the moment of the explosion, filmed with a drone:
(Telegraf.rs/Tanjug)
Pošaljite nam Vaše snimke, fotografije i priče na broj telefona +381 64 8939257 (WhatsApp / Viber / Telegram).