Derby's most terrifying moment: A lit torch from south hits steward directly in the face! (VIDEO)
A scary moment during the game in Humska Street!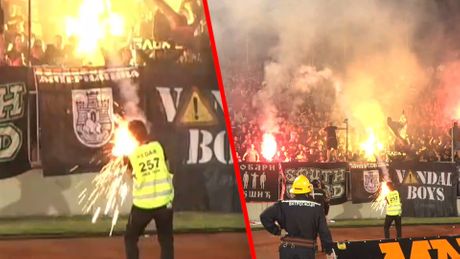 Partizan's footballers beat Red Star 2-0 in the 161st enteral derby in Belgrade, and the game was marked by numerous incidents.
Even before the start of the match, Red Star fans (Delije) got into a clinch with the police, Seydouba Soumah caused chaos by celebrating his goal in front of Delije, and clashing with Red Star keeper Milan Borjan, and there were incidental moments in front of the southern curve of the stadium, the home of the Partizan faithful.
At one point, Partizan fans (Grobari) threw flares while the stands were "on fire," with one such missile hitting an unfortunate steward in the face - as you can see in the video at the bottom of the page!
The lad just stood there in shock, his cheek completely black from the flare that he did not even see coming.
Otherwise, the match was marked by Soumah's goal, while Red Star coach Vladan Milojevic toook responsibility for the team that he had picked.
Somewhat stronger words came from Red Star's Radovan Pankov, who said that the whole team should be embarrassed.
Video:
Mračna strana derbija: Huligan bakljom pogodio redara u lice
(Telegraf.rs)
Pošaljite nam Vaše snimke, fotografije i priče na broj telefona +381 64 8939257 (WhatsApp / Viber / Telegram).