Vuk's childhood of suffering: In a coma since 10, hospital was his home, yellow rose story hurts
Every year, classmates and friends used to visit him for his birthday. His parents were hoping until the end that he would wake up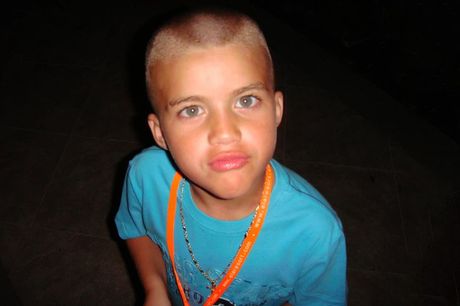 Vuk Erceg, who was in a coma caused by a head injury sustained during a fall from a cliff in Tasmajdan Park in 2013, died on Monday in a hospital in Moscow, where he had been recently transferred and operated on for a brain infection.
The whole country has been praying for this boy for years. Vuk's life was short, sad and too heavy for such small shoulders. He was just 10 years old when he fell through a damaged security fence in Tasmajdan Park in April 2013. He fell trying to escape a bee, falling down a 10 meter-deep cliff.
Shortly afterwards the boy fell into a coma. His childhood, development and, it will turn out, the last years of his life, shrank into a semi-intensive care room at the children's hospital in Tirsova Street in Belgrade. This is where Vuk was growing, entered puberty, and became a young boy, without even knowing it.
This became a new home for the whole family, where each day his mother Irena, father Ognjen and aunt Maja took turns caring for him. As Irena used to say, "they were in a golden cage, waiting for their birdie to wake up." Every year, classmates and friends used to visit him for his birthday. For his birthday, the room on the fourth floor of Tirsova was full of tears and laughter, but also of huge support.
"Vuk loved to play basketball. We just wait for him to catch the ball and score! We celebrate birthdays, talk to him and do our best to bring him home. We are grateful to all the doctors, nurses, friends who are with us," the mother told reporters. Wolf led a healthy life, grew up in Moscow, enrolled in the Vladislav Ribnikar elementary school in Belgrade, practiced basketball, was a straight A student. He was a great adventurer.
He also loved giving his mother yellow roses because he knew she didn't like the red ones.
"In recent years there's been nobody to give them to me. And I know that Vuk, if he could, certainly give it to you today," Irena said last year, appearing on March 8 on the Prva TV talk show "150 Minutes." For the past three years, Vuk struggled with a brain infection that aggravated his condition and caused him pain. The surgery, which was rejected by Serbian doctors because it was too risky, was accepted by neurosurgeons at the Russian Sklifasovsky Institute. The boy was, with many difficulties, transported to Russia, where he underwent surgery on August 27.
"The results are positive. Two surgeries have been performed, the head and sinus infection has been removed. Vuk is in a vegetative state, and as for whether he has been given a chance to wake up, I believe he has been, but what matters is that he has been given a chance not to suffer. He lived in constant pain," said the boy's mother.
The boy sadly passed away yesterday in a hospital in Russia.
Telegraf's newsroom expresses its sincere condolences to the boy's family.
(Telegraf.rs)
Pošaljite nam Vaše snimke, fotografije i priče na broj telefona +381 64 8939257 (WhatsApp / Viber / Telegram).