Strahinja, older brother of Serbian NBA star Nikola Jokic, arrested for assaulting a woman
Local media are reporting that Denver star's brother was arrested for violent behavior. He is suspected of attempting to strangle a woman he was with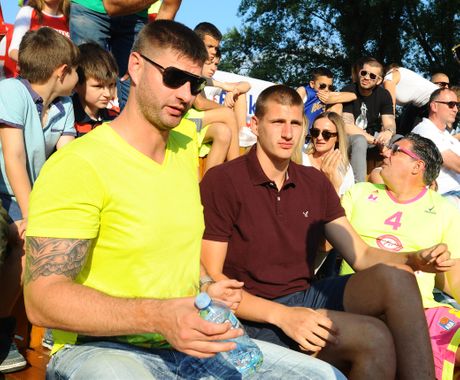 Nikola Jokic's older brother Strahinja was arrested in Denver on suspicion of assaulting, pushing and strangling a woman!
Strahinja Jokic, 37, was in his apartment with a woman on Thursday night, according to the Denver Post, which quoted the police. At one point, the woman wanted to leave the apartment, but Jokic prevented her by force, according to a police document that the media had access to.
The woman then went out to the balcony and called for help, but the older Jokic grabbed her and started to strangle her. He allegedly told her that he would "choke her until she fell asleep."
The woman then tried to call the police, but Jokic seized her phone. However, she managed to send a message to an acquaintance using a computer; the friend then informed the police, who showed up and arrested Strahinja Jokic.
"The Denver Attorney General's Office has accepted the charges related to this attack," said prosecutor spokeswoman Carolyn Taylor.
Strahinja and Nemanja, Nikola Jokic's older brothers, are well known in America and often attend their brother's matches.
Strahinja had already had an anger outburst in public when he "went crazy" on a referee, forcing the security to intervene.
Nikola Jokic's brother yelling at Tony Brothers #MileHighBasketball #denvernuggets pic.twitter.com/Ppb3xJSV6c

— Sports Gifs & Videos (@Supreme_gifs) March 17, 2019
It's interesting to note that Nemanja Jokic also played basketball, but since he didn't manage to get very far in that career, he turned to MMA fighting. The most "dangerous" of the three Sombor brothers ended his first match by knocking out his rival in the first round.
As a young man, Nemanja even shared an apartment Darko Milicic, a former Serbian basketballer, while he played in the NBA - and another thing the two share is a large number of tattoos. Even then Nemanja used to say, "I lived the life of an NBA player." That easy life lasted a year and a half, until Milicic joined Orlando.
(Telegraf.rs)
Telegraf.rs zadržava sva prava nad sadržajem. Za preuzimanje sadržaja pogledajte uputstva na stranici Uslovi korišćenja.