Bloody clash on Stara Mountain over construction of a mini hydro-power plant; Investor drops out
Both sides ended up with bloodied heads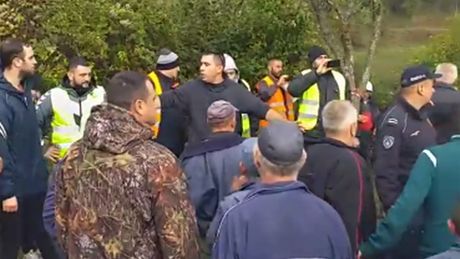 Printskrin: Facebook/Marica Stamenković
The village of Topli Do on Stara Mountain was on Monday morning the scene of a clash between villagers and the private security of an investor who wanted to build a mini hydro-power plant there, media reports said.
The clash occurred after, as activists claim, the investor's private security used pepper spray - after which the locals grabbed rocks. Moments later, both sides were throwing rocks at each other. Several villagers as well as employees of the private security firm sustained minor injuries, while the police tried to calm down the parties.
According to Tomislav Pancic, the president of the local community of the Temska village, several activists, locals and the investor's security have been injured.
"An ambulance came to help those injured," Pancic said.
Following the clash, investor Dragan Josic announced that he was abandoning the construction of the mini power plant on Stara Mountain.
Josic told Pirot TV that they were "lynched today on their privately owned plot."
"A group of bullies came from Pirot and Temska and they were literally stoning, demolishing the fence, setting fire to the building board and the fence. They cracked the heads of two of our workers and broke my arm. I will never return to Pirot and I will never set foot here again," Josic said in a telephone statement.
Ten days ago, representatives of the "Let's Defend the Stara Mountain Movement" met with Serbian President Aleksandar Vucic, who said that he would propose to the Serbian government to ban construction of mini power plants in protected areas, and do it as soon as possible.
Otherwise, locals and activists organized around-the-clock watch on the Srdjan Bridge at the entrance to the village to prevent the construction of the power plant.
Once they "saw the investor's back" - in order to make sure he was really gone - two trucks escorted him almost all the way to the town of Pirot.
The police in Pirot say they intervened during a clash between villagers of Topli Do and security and workers on a mini hydroelectric power plant.
Video:

Video: Protest against construction of mini hydro power plant
(Telegraf.rs)