The goal is to make the best country for us all: Brnabic in "Digital Future of Serbia" spot
Previously, Marija Obradovic, Igor Mirovic and Vladimir Orlic appeared in three teasers, turning mini pizzas into large ones, teleporting, and driving flying cars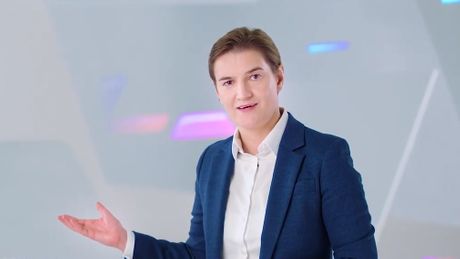 Printscreen: Youtube/Српска напредна странка
The Serbian Progressive Party (SNS) released today a new video from the "Digital Future of Serbia" series and this time, Prime Minister Ana Brnabic is in the lead role.
Commenting on previous teasers for "The Digital Future of Serbia", Brnabic is heard speaking in the video about the things that have been done in this field so far.
"We may not be able to use teleporting or flying cars very soon, but we've done a lot already. The SNS is transforming Serbia into a digital leader of the region. We've built digital infrastructure and introduced electronic services, to give our citizens more freedom, less red tape and jobs that generate better income. Our mission is to secure a digital future for all generations, and our goal is to make Serbia the best country to live in for us all," she said.
Previously, Marija Obradovic, Igor Mirovic and Vladimir Orlic appeared in three teasers, turning mini pizzas into large ones, teleporting, and driving flying cars.
(Telegraf.rs/Tanjug)